Thymosins in Health and Disease: First International Conference, Volume 1112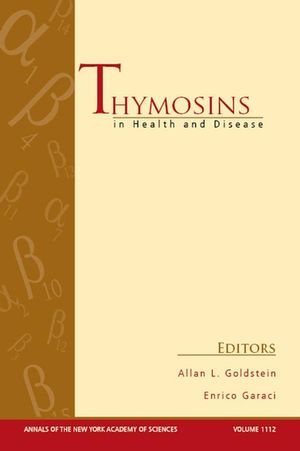 Thymosins in Health and Disease: First International Conference, Volume 1112
ISBN: 978-1-573-31701-6 October 2007 Wiley-Blackwell 500 Pages
Description
This volume is the result of a meeting bringing together many of the leading researchers in the US, Europe, and Asia, to report on advances that have been made in the chemistry, biology, and clinical application of thymosins in health and disease. The thymosins are a family of biologically active peptides with hormone-like properties that were first isolated in 1966.

Since that time, significant progress has been made in our understanding of the role of these molecules in immunity and the nature of the physiological processes they regulate. Several of these small peptides, such as thymosin alpha 1 and thymosin beta 4, have been synthesized and shown to have important clinical applications. The physiological processes that these peptides affect include stimulation or suppression of immune responses, regulation of actin dynamics and cell motility, neuroplasticity, repair and remodeling of vessels of the heart and other injured tissues, angiogenesis, and stem cell differentiation.

Several of these molecules have also been shown to be useful as molecular markers and as potential diagnostics in areas ranging from cancer and infectious diseases to autoimmune diseases and aging. In addition to reports on advances in basic research, the meeting will also highlight recent translational studies and detail how several of these molecules may play a role in the treatment of cancer, cardiovascular disease, and infectious diseases such as hepatitis.

NOTE: Annals volumes are available for sale as individual books or as a journal. For information on institutional journal subscriptions, please visit www.blackwellpublishing.com/nyas.

ACADEMY MEMBERS: Please contact the New York Academy of Sciences directly to place your order (www.nyas.org). Members of the New York Academy of Science receive full-text access to the Annals online and discounts on print volumes. Please visit http://www.nyas.org/MemberCenter/Join.aspx for more information about becoming a member



Part I: Thymosins: Structure and Design, Isoforms, Genomics, Multifunctionality:.
1. Contributions from all over: widely-distributed residues in thymosin β4 affect the kinetics and stability of actin binding: Daniel Safer.
2. The β-thymosin engima: Helen L. Yin.
3. The interaction of the C-terminal half of thymosin β4 with actin: Robert C. Robinson.
4. Evolution of the actin-sequestering function in β-thymosins and modular β-thymosin repeat proteins: Marie-France Carlier.
5. Thymosin β4: actin regulation and more: Elena G. Yarmola.
6. The thymosin fold among cytoskeletal proteins: multifunctionality and structure: Roberto Dominguez.
Part II: Wound Healing, Inflammation, and Fibrosis:.
7. Unexpected findings in mice overexpressing thymosin β4: Hynda Kleinman.
8. Adhesive and proteolytic phenotype of migrating endothelial cells induced by thymosin β4: Czeslow S. Cierniewski.
9. Thymosin β4 and the eye: I can see clearly now the pain is gone: Gabe Sosne.
10. In vivo detection of thymosins via mass spectrometric proteomics an ultrafiltration sampling: the role of in vivo secreted-thymosins in skin biology: Chun-Ming (Eric) Huang.
11. Airway disease and sputum: the role of DNA and actin polymers: Bruce Rubin.
12. Liver cirrhosis: a reversible process?: Marcos Rojkind.
Part III: Cardiovascular Protection, Neuroplasticity, Stem Cells Repair, and Regeneration:.
13. Cardiac protection and angiogenesis induced by thymosin β4: Deepak Srivistava.
14. Thymosin β4: the potential for neovascular therapy in the injured adult heart: Paul R. Riley.
15. Post-translational regulation of β-thymosin repeat protein: contribution to intrinsic cellular excitability: Terry Crow.
16. Prothymosin α in relation to chromatin decondensation and the role of β-thymosins in synaptic plasticity: Jaime Gomez-Marquez.
17. Thymosin β4 as a protective agent in the nervous system and the effects of its overexpression/ablation in neuronal and tumoral stem cells: Daniela Merlo.
18. Emerging multipotent roles of thymosin β in the development and regeneration of the nervous system: Woong Sun.
Part IV: Immunopharmocology, Pharmacogenomics, and Combination Therapies:.
19. Thymosin alpha 1 from bench to bedside: Enrico Garaci.
20. Immunopharmacology of thymosin α1: Paul Naylor.
21. IRX-3: A novel biologic to reverse immune suppression: John Hadden.
22. Clinical experiences with thimosins in influenza: William Ershler.
23. IFN-α and novel strategies of combination therapy of cancer: Filippo Belardelli.
24. Combination Trials with thymosin alpha 1 in hepatitis B and C: Guido Rasi.
Part V: Molecular Markers, Signaling, and Diagnostics for Cancer and Infectious Diseases:.
25. Thymosin α1 as a chemopreventive agent in breast and lung cancer: Terry Moody.
26. Characterization of a peptide component of thymosin fraction-5 manifesting cytostatic properties in HL-60 human promyelocytic leukemia cells: Brian Spangelo.
27. Cellular distribution of thymosin β4 in tumors: Lars-Inge Larsson.
28. Anti-HIV-1 activity of both thymosin β4 and prothymosin α: Arevik Mosoian.
29. Thymosin α1: an endogenous regulator of inflammation and tolerance in antimicrobial immunity and autoimmunity: Luigina Romani.
30. Activation of signal pathways by thymosin α1: Wen-ming Chu.
Part VI: Clinical Applications of Thymosin a1 and Thymosin b4:.
31. Issues in pharmaceutical development of thymosin α1 from preclinical studies through marketing: Cynthia Tuthill.
32. Clinical experience with the role of thymosin alpha 1 in hepatitis B and C: Vinod K. Rustgi.
33. European Phase III, Randomized, Double Blind, Multicenter Study of Triple Therapy with Thymosin alpha 1 plus Pegylated Interferon alpha-2a plus Ribavirin in Non Responder Patients with Chronic Hepatitis C. Study Design and Preliminary Safety Data: Mario Rizzetto.
34. Development of Thymosin β4 for Ischemic Heart Disease: David Crockford.
35. β-thymosin and venous ulcers: clinical remarks on a European perspective, randomised study on safety, tolerabiilty, and enhancement on healing: Giorgio Guarnera.
36. Myocardial infarction markers in patients with acute limb ischaemia: Piotr Gutowski.
37. Thymosin β4 and epidermolysis bullosa: Jo-David Fine.
38. Chronic Cutaneous Wound Treatment: Pressure Ulcers – A Role for Thymosin β4: Mike Godschalk