Thymosins in Health and Disease I: Third International Symposium, Volume 1269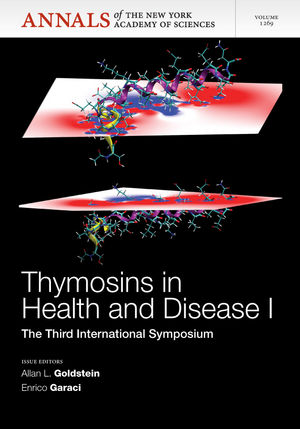 Thymosins in Health and Disease I: Third International Symposium, Volume 1269
ISBN: 978-1-573-31871-6 November 2012 Wiley-Blackwell 252 Pages
Description
The first of two, this volume comprises a collection of papers devoted to the understanding of thymosins—proteins originally isolated from the thymus and possess a unique array of biological properties. Thymosins in Health and Disease I brings together short reviews organized to explore the basic characteristics of these peptides and their hormone-like properties, recent preliminary evidence for their medicinal utility, and a focus on the alpha and beta thymosin families. In particular, Thymosin β4 (Tβ4) holds considerable promise for the treatment of many conditions and diseases. Of note, contributions to this volume include information on the application of thymosins to stem cell differentiation, neurological and cardiovascular regeneration, as well as accounts of thymosins in relation to basic regulatory and cancer cell functions. 
NOTE: Annals volumes are available for sale as individual books or as a journal. For more information on institutional journal subscriptions, please visit: http://ordering.onlinelibrary.wiley.com/subs.asp?ref=1749-6632&doi=10.111/(ISSN)1749-6632
ACADEMY MEMBERS: Please contact the New York Academy of Sciences directly to place your order (www.nyas.org). Members of the New York Academy of Science receive full-text access to Annals online and discounts on print volumes. Please visit http://www.nyas.org/MemberCenter/Join.aspx for more information on becoming a member.
Introduction for Thymosins in Health and Disease vii
Allan L. Goldstein and Enrico Garaci
Thymosins: chemistry, genetics, receptors, signaling, and multifunctionality
Jack of all trades: thymosin α1 and its pleiotropy 1
Luigina Romani, Silvia Moretti, Francesca Fallarino, Silvia Bozza, Loredana Ruggeri, Andrea Casagrande, Franco Aversa, Francesco Bistoni, Andrea Velardi, and Enrico Garaci
Single-domain β-thymosins: the family history 7
John Edwards
Controlled delivery of thymosin β4 for tissue engineering and cardiac regenerative medicine 16
Loraine L. Y. Chiu, Lewis A. Reis, and Milica Radisic
Thymosin α1 and cancer: action on immune effector and tumor target cells 26
Enrico Garaci, Francesca Pica, Annalucia Serafino, Emanuela Balestrieri, Claudia Matteucci, Gabriella Moroni, Roberta Sorrentino, Manuela Zonfrillo, Pasquale Pierimarchi, and Paola Sinibaldi-Vallebona
Prothymosin α plays multifunctional cell robustness roles in genomic, epigenetic, and nongenomic mechanisms 34
Hiroshi Ueda, Hayato Matsunaga, and Sebok Kumar Halder
Thymosin β4 is rapidly internalized by cells and does not induce intracellular Ca²⁺ elevation 44
Czeslaw S. Cierniewski, Katarzyna Sobierajska, Anna Selmi, Jakub Kryczka, and Radoslaw Bednarek
Thymosins: molecular markers, wound healing, fibrosis, inflammation, and hypoxia
Thymosin β4 expression reveals intriguing similarities between fetal and cancer cells 53
Carvino Faa, Sonia Nemolato, Tiziana Cabras, Daniela Fanni, Clara Gerosa, Mattia Fanari, Annalisa Locci, Vassilios Fanos, Irene Messana, and Massimo Castagnola
Protective effects of thymosin β4 on carbon tetrachloride-induced acute hepatotoxicity in rats 61
Karina Reyes-Gordillo, Ruchi Shah, Jaime Arellanes-Robledo, Marcos Rojkind, and M. Raj Lakshman
Protective effects of thymosin β4 in a mouse model of lung fibrosis 69
Enrico Conte, Tiziana Genovese, Elisa Gili, Emanuela Esposito, Maria Iemmolo, Mary Fruciano, Evelina Fagone, Maria Provvidenza Pistorio, Nunzio Crimi, Salvatore Cuzzocrea, and Carlo Vancheri
Thymosin β4 affecting the cytoskeleton organization of the myofibroblasts 74
H. Paul Ehrlich and Sprague W. Hazard
Thymosin β4 stabilizes hypoxia-inducible factor-1α protein in an oxygen-independent manner 79
Mee Sun Ock, Kyoung Seob Song, Hynda Kleinman, and Hee-Jae Cha
Thymosin β4: cardiovascular protection, neuroplasticity and regeneration, and stem cell differentiation
Thymosin β4 and cardiac protection: implication in inflammation and fibrosis 84
Sudhiranjan Gupta, Sandeep Kumar, Nikolai Sopko, Yilu Qin, Chuanyu Wei, and Il-Kwon Kim
Myocardial regeneration: expanding the repertoire of thymosin β4 in the ischemic heart 92
Nicola Smart, Sveva Bollini, Karina D. Dubé, Joaquim M. Vieira, Bin Zhou, Johannes Riegler, Anthony N. Price, Mark F. Lythgoe, Sean Davidson, Derek Yellon, William T. Pu, and Paul R. Riley
Molecular and cellular mechanisms of thymosin β4-mediated cardioprotection 102
Rabea Hinkel, Teresa Trenkwalder, and Christian Kupatt
Treatment of neurological injury with thymosin β4 110
Daniel C. Morris, Zheng G. Zhang, Jing Zhang, Ye Xiong, Li Zhang, and Michael Chopp
Therapeutic potential of thymosin β4 in myocardial infarct and hear failure 117
Christoffer Stark, Pekka Taimen, Miikka Tarkia, Jussi Pärkkä, Antti Saraste, Tero-Pekka Alastalo, Timo Savunen, and Juha Koskenvuo
Thymosin β4 mobilizes mesothelial cells for blood vessel repair 125
Elaine L. Shelton and David M. Bader
Appendix: Historical article reprinted from Annals of the New York Academy of Sciences 332: 33-48 (1979)
Current status of thymosin research: Evidence for the existence of a family of thymic factors that control T-cell maturation 131
Teresa L. K. Low, Gary B. Thurman, Carolina Chincarini, John E. McClure, Gailen D. Marshalll, Shu-Kuang Hu, and Allan L. Goldstein