Thyroid For Dummies, UK Edition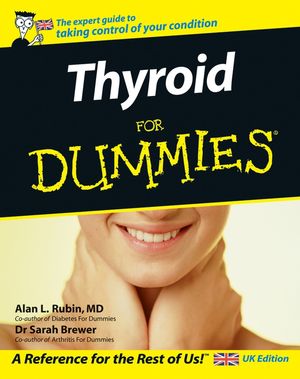 Thyroid For Dummies, UK Edition
ISBN: 978-1-119-99776-4
Feb 2011
320 pages
Description
Includes information on the latest thyroid treatments

Understand and manage your thyroid condition

Don't get pushed around by the little gland in your neck. Whether you suffer from an underactive or overactive thyroid, nodules, or a goitre, Thyroid For Dummies has all the jargon-free information you need to get to grips with the problem and expert advice on how to get your condition under control.

Discover how to
* Tell if you have a thyroid problem
* Understand the treatments on offer
* Deal with your condition day-to-day
* Get the right diet and exercise
* Manage thyroid conditions in children and older people
Introduction.
Part I: Understanding the Thyroid.
Chapter 1: Bigging It Up: The Huge Role of a Little Gland.
Chapter 2: Feeling Fragile: The Emotional Effects of Thyroid Problems.
Chapter 3: Discovering How Your Thyroid Works.
Chapter 4: Testing Your Thyroid.
Part II: Treating Thyroid Problems.
Chapter 5: Dealing with an Underactive Thyroid.
Chapter 6: Taming an Overactive Thyroid.
Chapter 7: Getting the Low-Down on Thyroid Nodules.
Chapter 8: Coping with Thyroid Cancer.
Chapter 9: Learning about Multinodular Goitres.
Part III: Managing Your Thyroid.
Chapter 10: Taking Care with Drugs That Affect Your Thyroid.
Chapter 11: Spotting Thyroid Infections and Inflammation.
Chapter 12: Overcoming Iodine Deficiency Disease.
Chapter 13: Going In: Surgery on the Thyroid Gland.
Chapter 14: Exciting New Approaches in Thyroid Treatment.
Chapter 15: Living with Thyroid Problems: Diet and Exercise.
Chapter 16: Helping Yourself: Herbs and Homeopathy.
Part IV: Special Considerations in Thyroid Health.
Chapter 17: Examining the Genetic Link to Thyroid Disease.
Chapter 18: Controlling Thyroid Disease during Pregnancy.
Chapter 19: Developing Thyroid Conditions in Childhood.
Chapter 20: Maturing: Thyroid Disease in Later Life.
Part V: The Part of Tens.
Chapter 21: Ten Myths about Thyroid Health.
Chapter 22: Ten Ways to Maximise Thyroid Health.
Part VI: Appendixes.
Appendix A: Glossary of Terms.
Appendix B: Sources of More Information.
Index.