Tics and Tourette Syndrome: Key Clinical Perspectives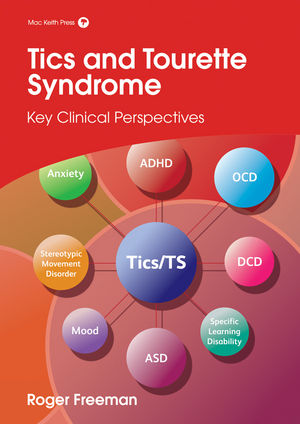 Tics and Tourette Syndrome: Key Clinical Perspectives
ISBN: 978-1-909-96241-5
Apr 2015
304 pages
Description
Unlike much of the literature on Tourette syndrome disorders, this book moves away from focusing on the tics and acknowledges that sometimes it is the disorder, such as ADHD, DCD, and OCD, that is the most pressing problem. Roger Freeman, considered a world expert in developmental neurology, shares his vast experience on tic disorders in an informal but highly informative style. He discusses recent advances in the identification and management of tic disorders that many clinicians may be unfamiliar with. Multiple illustrative case histories address many of the mistaken assumptions about tics that are made in everyday clinical practice. Extensive reference lists provide a rich resource for the both the clinician and the researcher. Paediatricians working in neurodisability and child development, child and adolescent psychiatrists and psychologist, neurologists and other health professionals who manage patients with tic disorders will find this book an excellent resource.
Contents
AUTHOR'S APPOINTMENTS
ACKNOWLEDGMENTS
CONFLICT OF INTEREST DECLARATION
FOREWORD
LIST OF ABBREVIATIONS
1 INTRODUCTION
2 DIAGNOSIS AND DEFINITIONS
3 PRESENTATION TO CLINICIANS
4 PREVALENCE AND EPIDEMIOLOGY
5 ETIOLOGY
6 CLINICAL COURSE AND PROGNOSIS
7 PHENOMENOLOGY AND SOCIAL CONSEQUENCES
8 THE LIVED EXPERIENCE
9 FUNCTIONAL ('CONVERSION DISORDER' OR 'PSYCHOGENIC') TICS
10 COMORBID DISORDERS AND SYMPTOMATOLOGY
11 STEREOTYPIC MOVEMENT DISORDER
12 SYMPTOMS AND PATTERNS
13 TICS IN OTHER MEDICAL CONDITIONS
14 NEUROPSYCHOLOGY
15 INTERVENTIONS AND TREATMENT
16 WORKING WITH SCHOOLS
17 WORKING WITH FAMILIES
18 PEER RELATIONSHIPS AND TEASING/BULLYING
19 CONTROVERSIES
20 REFRACTORY CASES
21 SERVICE PROVISION: A FEW CONSIDERATIONS
22 SUPPORT GROUPS
23 TIC DISORDERS AND THE LAW
24 TOURETTE SYNDROME, EMPLOYMENT AND INSURANCE
25 AND NOW FOR SOMETHING COMPLETELY DIFFERENT
26 SOME PROBLEMS TICS CAN CAUSE FOR OTHERS
27 CODA
REFERENCES
APPENDIX 1. Then and Now
APPENDIX 2. How Accurate is Information on the Internet?
APPENDIX 3. Stereotypic Movement Disorder — a Primer for Teachers
APPENDIX 4. Comments on the American Practice Parameters on Tic Disorders
APPENDIX 5. Stereotypy Severity Scale
APPENDIX 6. Web Resources
APPENDIX 7. Publications of the TIC Consortium
INDEX