Tidal Signatures in Modern and Ancient Sediments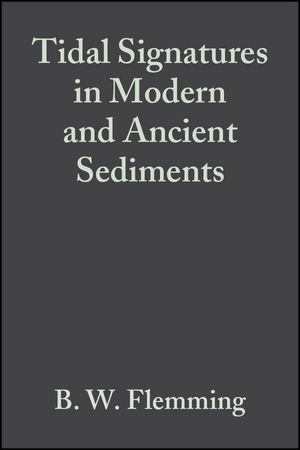 Tidal Signatures in Modern and Ancient Sediments
ISBN: 978-1-444-30413-8 April 2009 Wiley-Blackwell 368 Pages
Description
This IAS Special Publication contains 23 papers presented at the 3rd International Research Symposium on Modern and Ancient Clastic Tidal Deposits. This symposium series has an enviable international reputation for its quality, and so the contributions represent the latest developments in the field. The conference was preceded and followed by a number of field trips to some of the most prominent tidal flat and barrier island systems of continental Europe, and these have been written up as overview papers that summarize the current state of knowledge about these various tidal regions.

The latest research results from this very specialized field.


If you are a member of the International Association of Sedimentologists, for purchasing details, please see: http://www.iasnet.org/publications/details.asp?code=SP24
Preface.
Modern Tidal Processes And Sediment Dynamics.
What Is A Bedload Parting?.
Hydraulic Roughness Of Tidal Channel Bedforms, Westerschelde Estuary, The Netherlands.
Bedforms On The Middelkerke Bank, Southern North Sea.
Storm Enhanced Sand Transport In A Macrotidal Setting, Queen Charlotte Islands.
Modern Tide-Dominated Environments And Facies.
Occupation Of A Relict Distributary System By A New Tidal Inlet, Quatre Bayou Pass, Louisiana.
Morphological Response Characteristics Of The Zoutkamperlaag, Frisian Inlet (The Netherlands).
Sedimentological Implications Of Morphodynamic Changes In The Ebb-Tidal Delta, The Inlet And The Backbarrier Environment Of The Zoutkamperlaag Tidal Inlet (Dutch Wadden Sea), Induced By A Sudden Decrease In The Tidal Prism.
Stratigraphy Of A Combined Wave- And Tide-Dominated Intertidal Sand Body: Martens Plate, East Frisian Wadden Sea, Germany.
Sedimentation In The Mesotidal Rias Bajas Of Galicia (NW Spain): Ensenada De San Simon, Inner Ria De Vigo.
Holocene Estuarine Facies Along The Mesotidal Coast Of Huelva, Southwestern Spain.
The Tidal Character Of Fluvial Sediments Of The Modern Mahakam River Delta, Kalimantan, Indonesia.
Tidal Lamination And Facies Development In The Macrotidal Flats Of Namyang Bay, West Coast Of Korea.
Patterns Of Sedimentation In The Macrotidal Fly River Delta, Papua New Guinea.
Foraminifers As Facies Indicators In A Tropical Macrotidal Environment: Torres Strait - Fly River Delta, Papua New Guinea.
Submarine Sedimentation In Tide-Generated Bioclastid Sand Dunes: Epicontinental Seaway, Torres Strait, Northeast Australia.
Ancient Tidal Processes And Sediment Dynamics.
Reconstruction Of Tidal Inlet And Channel Dimensions In The Frisian Middelzee, A Former Tidal Basin In The Wadden Sea.
Comparison Of Ancient Tidal Rhythmites (Carboniferous Of Kansas And Indiana, USA) With Modern Analogues (The Bay Of Mont-Saint-Michel, France).
Ancient Tide-Dominated Environments And Facies.
Sequence Stratigraphy Of The Late Pleistocene Palaeo-Tokyo Bay: Barrier Islands And Associated Tidal Delta And Inlet.
Diurnal Inequality Pattern Of The Tide In The Upper Pleistocene Palaeo-Tokyo Bay: Reconstruction From Tidal Deposits And Growth Lines Of Fossil Bivalves.
Climbing Ripples Recording The Change Of Tidal Current Conditions In The Middle Pleistocene Shimosa Group, Japan.
Internal Geometry Of Ancient Tidal Bedforms Revealed Using Ground Penetrating Radar.
Tide-Dominated Sedimentation In The Upper Tertiary Succession Of The Sitapahar Anticline, Bangladesh.
Evidence Of Tidal Influence In The Murree Group Of Rocks Of The Jammu Himalaya, India


The latest research results from this very specialized field.