Time, Desire and Horror: Towards a History of the Senses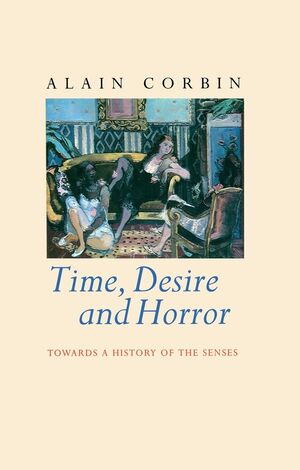 Time, Desire and Horror: Towards a History of the Senses
ISBN: 978-0-745-61131-0 November 1995 Polity 224 Pages
Description
In this book Alain Corbin argues that the 1860s were a crucial period for western civilization, characterized by radical changes in the way Europeans viewed themselves and their world. Corbin examines urban development, the new mobility of the population, prostitution and policing, personal hygiene and the social plagues of alcoholism, tuberculosis and venereal disease.
Table of contents
Publisher's Note.
Preface to the English Edition.
1. The Daily Arithmetic of the Nineteenth Century.
2. The Great Century of Linen.
3. Agitation in Provincial Theatres under the Restoration.
4. The Archaeology of the Housewife and Bourgeois Fantasies.
5. The 'Sex in Mourning' and the History of Nineteenth-Century Women.
6. The Doomed Education of the Nineteenth-Century Prostitute.
7. Nineteenth-Century Prostitutes and the 'Vast Effort for Nothing'.
8. Hereditary Syphilis or the Impossible Redemption. A Contribution to the History of Morbid Heredity.
9. The Little Bible for Young Marrieds.
10. Public Opinion, Policy and Industrial Pollution in the Pre-Haussmann Town.
11. The Peasants of Paris: A History of Limousin Building Workers in the Nineteenth Century.
12. The Blood of Paris: Reflections on the Genealogy of the Image of the Capital.
13. A History and Anthropology of the Senses.
Index.
Reviews
"Alain Corbin is one of the most innovative and stimulating historians of modern France, who has pioneered new directions in the social and cultural history of the recent past. He applies to modern society techniques and approaches usually confined to medieval and early modern history. In several already classic works, he explores the history and anthropology of sensation, a quest taken further in this remarkable volume of essays. It covers an admirable range of the unexpected, including the measurement of time; the meanings of body linen; sex; and bloodshed in Paris. He wears his scholarship lightly, is unfailingly thought-provoking, and writes with passion and compassion both for the specialist, and for the general reader."
Robert Tombs, University of Cambridge
"Good social and cultural historians are both fact-bound and original at once, so the requirements for being either keep rising ... none succeeds more impressively in both fields than Alain Corbin. Corbin's thirteen chapters ... make a great little book not least because of their very diversity." Journal of Social History
"Corbin is one of France's best historians of the nineteenth century; he is indisputably the most adventuresome. For readers interested in a sampling of one of France's most daring historians, this book is a good place to start." Choice
Features
* Alain Corbin is one of the leading French historians on the 19th Century.
* This book brings together his writings on the major themes that interest him.