Time Wearing Out Memory: Schoharie County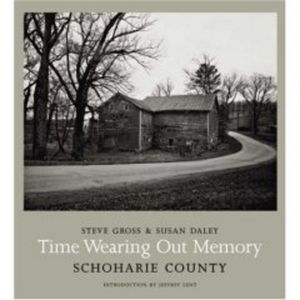 Time Wearing Out Memory: Schoharie County
ISBN: 978-0-393-06644-9
*Norton agency titles
320 pages
Product not available for purchase
Description
These elegant and evocative photographs portray the oldest continuously farmed county in New York as it was and and as it is today.

Abandoned countryside and discarded buildings stand as silent memorials to the once-prosperous farming community of Schoharie County, New York. With an unique eye for the aesthetics of age, acclaimed photographers Steve Gross and Susan Daley honor this beautiful, troubled landscape in a collection of more than one hundred black-and-white photographs. Their work honors a legacy both precarious and perpetual, dotted with crumbling houses and barns, fallow fields and overrun woods.

Novelist Jeffrey Lent writes, In an America that often seems confused and uncertain of its future at this period in our history, Steve Gross and Susan Daley offer something quietly optimistic—the idea that we can, if we push through the dense covering foliage, arrive again at heightened expectations of ourselves. 104 duotone photographs.