Time of Transitions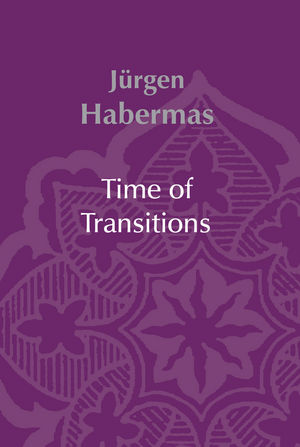 Time of Transitions
ISBN: 978-0-745-63011-3 March 2006 Polity 208 Pages
Description
We live in a time of turbulent change when many of the frameworks that have characterized our societies over the last few centuries – such as the international order of sovereign nation-states – are being called into question. In this new volume of essays and interviews, Habermas focuses his attention on these processes of change and provides some of the resources needed to understand them.


What kind of international order should we seek to create in our contemporary global age? How should we understand the political project of Europe and how can the democratic deficit of the EU be overcome? How should we understand the relation between democracy as popular sovereignty, which has become the defining principle of political legitimacy in the modern world, and the idea of basic human rights embodied in the rule of law?

Habermas brings his formidable powers of analysis and his distinctive theoretical perspective to bear on these and other key questions of the modern age. His analysis is shaped throughout by his commitment to informed public debate and his powerful advocacy of a postnational renewal of the project of constitutional democracy.

Time of Transitions will be essential reading for all students and scholars of sociology and politics, and it will be of interest to anyone concerned with the key social and political questions of our time.
Author's Foreword.
Part I From Bonn to Berlin.
1 There are Alternatives!.
Part II Interventions.
2 From Power Politics to Cosmopolitan Society.
3 A Sort of Logo of the Free West.
4 The Finger of Blame: The Germans and Their Memorial.
Part III Public Reeprsentation and Cultural Memory.
5 Symbolic Expression and Ritual Behavior: Ernst Cassirer and Arnold Gehlen Revisited.
Part IV Europe in Transition.
6 Euroskepticism, Market Europe, or a Europe of (World) Citizens?.
7 Does Europe need a Constitution?.
Part V A Question of Political Theory.
8 Constitutional Democracy - A Paradoxical Union of Contradictory Principles?.
Part VI American Pragmatism and German Philosophy: Three Reviews.
9 John Dewey, The Quest for Certainty.
10 Richard Rorty, Achieving our Country.
11 Robert Brandom, Making it Explicit.
Part VII Jerusalem, Athens, and Rome.
12 A Conversation about God and The World.
Notes.
Index.


Written by the most influential philosopher and social thinker in Germany today.

This new volume will be essential reading for all students and scholars of sociology and politics.

Habermas brings his formidable powers of insight and his distinctive theoretical approach to bear on the key questions of the modern age.

Discusses such key issues as Euroscepticism and the European constitution, public representation and cultural memory as well as the changing nature of power and religion in the modern world.