Timeless Learning: How Imagination, Observation, and Zero-Based Thinking Change Schools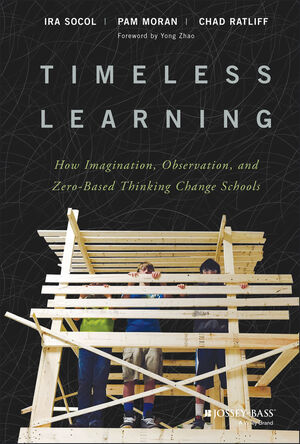 Timeless Learning: How Imagination, Observation, and Zero-Based Thinking Change Schools
ISBN: 978-1-119-46169-2 August 2018 Jossey-Bass 320 Pages
Description
Reinvent public schools with proven, innovative practices
Our homes, communities, and the world itself need the natural assets our children bring with them as learners, and which they often lose over time on the assembly line that pervades most of the public education system today. We see no actions as more important in school than developing, supporting, and reinforcing children's sense of agency, the value of their voices, and their potential to influence their own communities.
In Timeless Learning, an award-winning team of leaders, Chief Technology Officer Ira Socol, Superintendent Pam Moran, and Lab Schools Principal Chad Ratliff demonstrate how you can implement innovative practices that have shown remarkable success. The authors use progressive design principles to inform pathways to disrupt traditions of education today and show you how to make innovations real that will have a timeless and meaningful impact on students, keeping alive the natural curiosity and passion for learning with which children enter school.
Discover the power of project-based and student-designed learning
Find out what "maker learning" entails
Launch connected and interactive digital learning
Benefit from the authors' "opening up learning" space and time
Using examples from their own successful district as well as others around the country, the authors create a deep map of the processes necessary to move from schools in which content-driven, adult-determined teaching has been the traditional norm to new learning spaces and communities in which context-driven, child-determined learning is the progressive norm.
Acknowledgments xi
Foreword by Yong Zhao xv
Introduction: How We Came to See Learning and School 1
1 All Means All: Cherishing Children 15
2 A Little History: Why We Are Here 39
3 Change: Liberating Learners and Learning 67
4 The Education World Learners Want 93
5 Envision All Things Future 121
6 Learning Ready for Today's Real World 147
7 Break Down Walls: Opening Spaces for Learning 173
8 Timeless 197
9 Where Design Begins 223
10 Zero-Based Design: Engineering Biodiversity of Learning 247
Afterword: The Next Generation 277
Index 289
"An ambitious book! The authors aim to show reformers at all levels of schooling what and how we could and should respond to the demand that 'all children' succeed. Each chapter is filled with practical accounts of real life stories of teachers and students who aren't willing to comply and give up. Instead, the narrative of Timeless Learning demonstrates the power of democratized and collaborative progressive education designed for contemporary learners."
– Deb Meier, public school teacher for half a century, author of Schools Belong to You and Me
"Pam, Chad, and Ira have written a manifesto; they are not spouting blanket statements but rather revealing the intricate facets enmeshed in learning, teaching, and living. They are big dreamers and just as big doers, and their ideas and hopes are built from real experiences in walking the halls, breaking down walls, and hearing students and teachers alike. I've had the incredible fortune to spend time in conversation with these three, and this book is the next best thing."
– Stephanie Chang, Director of Educational
Programs, Maker Ed
"A thought-provoking and insightful read highlighting the rap- idly shifting landscape of public education and the fixes that we so urgently need in our public schools. Moran, Ratliff, and Socol have crafted a thorough and detailed walkthrough of how one of Virginia's leading school districts has charged full-speed into the progressive era of education. This book serves as an excellent reminder of how far we've come from the comparatively primi- tive classrooms of the industrial era and gives a front-row seat to how America's public schools are embracing a new world of pedagogical possibility, and rethinking what it means to learn."
– Julian Waters, youth educational provocateur and aspiring policy maker
"Schools do not transform. School administrators, teachers, and staff have to personally transform in order to cocreate individ- ualized, meaningful learning journeys with every student. The authors with radical transparency share such a journey – a 'learn by doing' journey of overcoming financial restraints, physical space, fears of the unknown, and resistance to change by inspir- ing, trusting, and enabling teachers and students to cocreate the learning that will better prepare students for the Smart Machine Age. This book will capture your mind and your heart; it is an inspiring and practical read!"
– Ed Hess, coauthor of Humility Is the New Smart: Rethinking Human Excellence in the Smart Machine Age, Professor of Business Administration and Batten Executive-in-Residence,
UVA Darden School of Business
"Maker Learning is about providing students with opportunities to explore ideas that are personal to them. We give them a voice when we allow them to identify and create solutions to problems that are pertinent to their lives. Pam, Chad, and Ira have worked with the members of their community to create schools that sup- port processes and spaces that provide fluidity in addressing the learning needs and desires of all students, and adults. Backed by a body of knowledge and direct experience, the words on the pages of this book will be an inspiration, as they provide ideas for establishing learning constructs for the learners of today and the future."
– Lakeysha Washington, Principal, Benjamin O.
Davis Middle School, Compton, CA
"A must-read book by three of America's leading public school educators. Socol, Moran, and Ratliff paint a picture of what learn- ing must and can look like in the twenty-first century, and how to transform outdated schools into places of powerful student- centered engagement and learning. An inspiring, rich narrative from the front lines of K–12 education. Bottom line: If they can do it, so can you!"
– Grant Lichtman, author of #EdJourney: A Roadmap to the Future of Education and Moving the Rock: Seven Levers
WE Can Press to Transform Education
"This book is the enactment of modern-day progressive edu- cation in Virginia and the shining example of how school and district leaders are an essential factor in the development of sys- tems and dispositions that support youth and adults in becoming their best selves. It should be required reading for any educator interested in empowering teachers and students and investing in the future of public education. After years in the classroom, in schools, and in leading school districts, these exceptional educa- tors share their blueprint for designing learning spaces for youth to own their learning and cocreate knowledge with teachers. At the heart of this blueprint is the belief that teachers and stu- dents should cocreate learning environments that are meaning- ful for them."
– Jessica Parker, Director of Teaching and Learning,
the Exploratorium
"The single most important challenge our country faces is how to transform existing schools to prepare children for their futures. This remarkable team has done exactly that, advancing learning outcomes for kids in every school in a district that reflects the full spectrum of socioeconomic circumstances. Read this book and treasure it for the insights and pragmatic advice it provides!"
– Ted Dintersmith, author of What School Could Be and executive producer of Most Likely to Succeed
"Contemplating the visionary tool kit in Timeless Learning, one is shaken up, the mind is opened, and we are offered an open space to prepare for the critical evolutionary leap our schools must make. The authors provide an illuminating X-ray-like analysis of what has gone before, where past academic trails have led, and their clearing away and innovating forward in confidence breaks down walls to construct new open spaces, foster real world learn- ing and promote an education our learners want and will need underpinned by a deep, palpable cherishing of all our children. A must-read tool kit for twenty-first-century learners of all ages."
– John Hunter, CEO, World Peace Game Foundation
"To prepare students for a bold new world we need to fundamen- tally rethink learning. The authors not only provide a compel- ling case for needed changes to the function of schools but they all have played an integral part in implementing transformative practices at the classroom, building, and district level. If you are interested in how to put theory into practice, then this book is for you."
– Eric Sheninger, Google Certified Innovator and Adobe Education Leader, and Thomas C. Murray, Director of
Innovation, Future Ready Schools
"The authors challenge constraints often cited as barriers to contemporary progressive education. In their work to integrate innovative technologies, teaching practices, and learning envi- ronments they show how systems thinking and strategic design can lead to learning opportunities that were inconceivable a decade ago."
– Richard Culatta, Chief Executive Officer, ISTE