To Improve the Academy: Resources for Faculty, Instructional, and Organizational Development, Volume 21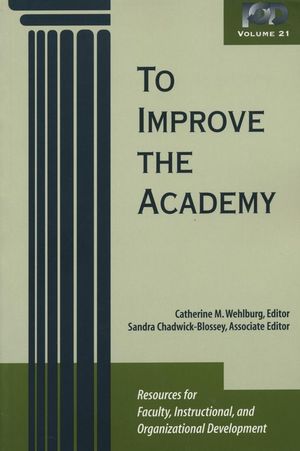 To Improve the Academy: Resources for Faculty, Instructional, and Organizational Development, Volume 21
ISBN: 978-1-882-98255-4
Sep 2002, Jossey-Bass
361 pages
Product not available for purchase
Description
An annual publication of the Professional and Organizational Development (POD) Network in Higher Education, the 21st volume of To Improve the Academy is a collection of articles that address the impact that professionals working in higher education have on society. Written after September 11, 2001, the book embodies a reaction of the educational community to these tragic events. Each of the contributing authors urges an awareness of the continuously changing nature of the world, and emphasizes the role that faculty development can play in connecting the work of classrooms with real life experiences, which is just as valuable today as it was after the tragedy of September 11.

To Improve the Academy, Volume 21, reflects upon the current and emerging trends in practicing faculty development in higher education. The book is divided into four sections:
Section I, Faculty Development and Its Role in Institutional and National Crisis: reflects upon the events of September 11 and looks toward the changing face of American higher education

Section II, Faculty Focus in Faculty Development: contains chapters that focus on the needs of faculty with respect to enhanced development

Section III, Student-Centered Faculty Development: discusses the role that students play in the teaching and learning process

Section IV, Philosophical Issues in Faculty Development: considers the potential effect of new technologies on the future of higher education
Written for faculty and instructional development staff, department chairs, deans, student services staff, chief academic officers, and educational consultants, this book offers a thoughtful resource for contributing to improvements in higher education.
Preface.
Introduction.
Section I. Faculty Development and Its Role in Institutional and National Crisis.
1. September 11, 2001, as a Teachable Moment (Edward Zlotkowski).
2. The Day After: Faculty Behavior in Post-September 11, 2001, Classes (Michaele DiPietro).
3. Internationalizing American Higher Education: A Call to Thought and Action (Deborah deZure).
Section II: faculty Focus in faculty Development.
4. The Knowledge Survey: A Tool for All Reasons (Edward Nuhfer and Delores Knipp).
5. Establishing a Teaching Academy: Cultivation of Teaching at a researchUniversity campus (Patricia Kalivoda, Josef Broder, and William K. Jackson).
6. Using Cooperative Games for Faculty development (BarbaraJ. Millis).
7. Proven faculty Development Tools that Foster the Schlorship of Teaching in Faculty Learning Commenities (Milton D. Cox).
8. Assessing and Reinvigorating a teaching Assistant Support Program: The Intersections of Institutional, regional, and national Needs for Preparing Future Faculty (Kathleen S. Smith).
9. Transforming Instructional Development: Online Workshops for faculty (Laurie Bellows and Joseph R. Danos).
Section III: Student-Centered faculty development.
10. Accommodating Students with Disabilities: Professional development Needs of faculty (Sheryl Burgstahler).
11. Integrity in Learner-Centered teaching (Douglas Robertson).
12. Something More: Moments of Meeting and the Teacher-Learner Relationship (Richard G. Tiberius, John Teshima, and Alan R. Kindler).
13. Undergraduate Students as Collaborators in Building Student Learning Communities (Candyce Reynolds).
14. Improving Teaching and Learning: Students' Perspectives (X. Mara Chen, Ellen M. Lawler, and Elichia A. Venso).
Section IV: Philosophical Issues in Faculty Development.
15. The Essential Role of Faculty Development in New Higher Education Models (Devorah A. Lieberman and Alan E. Guskin).
16. Are They Really teachers? Problem-Based Learning and Information Professionals (Michael Anderson and Virginia Baldwin).
17. Embracing a Philosophy of Lifelong Learning in Higher Education: Starting with faculty Beliefs about Their Role as Educators (Caroline Kreber).
18. A Matrix for reconsidering, Reassessing, and Shaping E-Learning Pedagogy and Curriculum (Laura Bush, Barry Maid, and Duane Roen).
Bibliography.