To Improve the Academy: Resources for Faculty, Instructional, and Organizational Development, Volume 24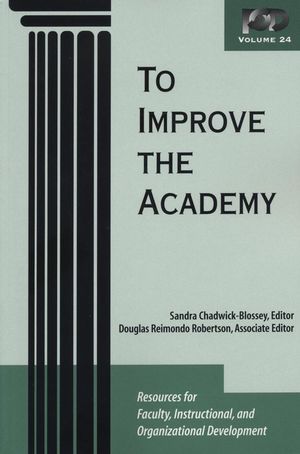 To Improve the Academy: Resources for Faculty, Instructional, and Organizational Development, Volume 24
ISBN: 978-1-882-98289-9
Sep 2005, Jossey-Bass
360 pages
Product not available for purchase
Description
An annual publication of the Professional and Organizational Development (POD) Network in Higher Education, volume 24 of To Improve the Academy is a selection of articles on faculty development that collectively serve as a resource for academic administrators, faculty developers, full- and part-time faculty, instructional technologists, educational consultants, and institutional researchers. The authors describe their work toward institutional change in order to explore successful practices in faculty development that readers might adapt for use in their own institutions.

To Improve the Academy, Volume 24, provides examples and advice designed to help readers become engaged members of their institutions and communities, as well as effective teachers who regard student learning as central to their work. The book includes essays on topics such as
Culture, creativity, and communication in the academy
Surviving marketplace forces on higher educational
The demand for heterogeneity in college teaching
A theory-based integrative model for learning and motivation
Tailoring faculty development programs to faculty career stages
Promoting community and professional growth for diverse faculty
Creating engaged departments
Faculty-centered program development and eManagement
Helping faculty teach better through sequenced activities
Learning communities for first-year faculty
This book provides guidance for professionals who have an interest in promoting excellence in teaching and learning through faculty and organizational development.
About the Authors.
Preface.
Introduction.
1. An Adventure on POD's High Cs: Culture, Creativity, and Communication in the Academy: A Humanist Perspective (James Downey).
Section I: Reflections and Propositions.
2. Monster at the Foot of the Bed: Surviving the Challenge of Marketplace Forces on Higher education (Raoul A. Arreola).
3. The Advantages of a Reciprocal relationaship Between Faculty Development and Organizational Development in Higher Education (Leora baron).
4. A Different Way to Approach the Future: Using Chaos Theory to Improve Planning (Marc Cutright).
5. The New demand for Heterogeneity in College teaching (George Keller).
6. Not Making or Shaping: Finding Authenticity in Faculty development (Patricia Cranton).
7. A Theory-Based Integrative model for Learning and Motivation in Higher Education (Chantal S. Levesque, G. Roger Sell, James A. Zimmerman).
8. Perceptions of faculty Developers About the Present and Future development at Historically Black Colleges and Universities (Phyllis Worthy Dawkins, Andrea L. Beach, Stephen L. Rozman).
9. Preparing Faculty for Pedaogical Change: Helping Faculty Deal With Fear (Linda C. Hodges).
Section II: Innovations and Outcomes.
10. Tailoring Faculty development Programs to Faculty Career Stages (Peter Seldin).
11. Creating Engaged Departments: A Program for Organizational and Faculty development (Kevin J. Kecskes, Sherril B. Gelmon, Amy Spring).
12. Promoting Intellectual Community and Professional Growth  for a Diverse Faculty (Dorothe J. Bach, Marva A. Barnett, Jose D. Fuentes. Sherwood C. Fry).
13. Building It for Them: Faculty-Centered Program Development and eManagement (Bonnie B. Mullinix).
14. An Electronic Advice Column to Foster Teaching Culture Change (Donna M. Qualters, Thomas C. Sheahan, Jacqueline A. Isaacs).
15. Helping Faculty Learn to teach: Transforming the TA Orientation (Barbara J. Millis).
16. Practicing What We Preach: Transforming the TA Orientation (Patricia Armstrong, Peter Felten, Jeffrey Johnson, Allison Pingree).
17. Exploring the Application of Best Practices to TA Awards: One University's Approach (Laurel Willingham-McLain, Deborah L. Pollack).
18. Expeditionary Learning: A Low-Risk, Low-Cost, High-Impact Professional Development Model (Chris Carlson-Dakes, Alice Pawley).
19. Learning Communities for First-Year Faculty: Transition, Acculturation, and Transformation (Harriet Fyane, Leslie Ortquist-Ahrens).
20. Faculty Competency by Design: A Model for Institutional Transformation (Helen M. Clarke, Philip E. Bishop).
Bibliography.