To Improve the Academy: Resources for Faculty, Instructional, and Organizational Development, Volume 28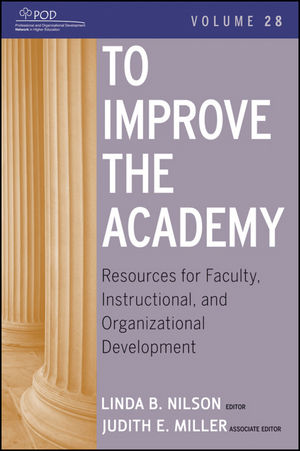 To Improve the Academy: Resources for Faculty, Instructional, and Organizational Development, Volume 28
ISBN: 978-0-470-48434-0
Oct 2009
432 pages
Description
The development of students is a fundamental purpose of higher education and requires for its success effective advising, teaching, leadership, and management. Professional and Organizational Development Network in Higher Education (POD) fosters human development in higher education through faculty, instructional, and organizational development. A smart mix of big-picture themes, national developments, and examples of effective faculty development initiatives from a variety of schools, To Improve the Academy offers examples and resources for the enrichment of all educational developers. This annual volume incorporates all the latest need-to-know information for faculty developers and administrators.
About the Authors.
Preface.
Acknowledgments.
Ethical Guidelines for Educational Developers.
SECTION ONE: Improving Our Performance.
1. Developing Competency Models of Faculty Developers: Using World Café to Foster Dialogue (Debra Dawson, Judy Britnell, Alicia Hitchcock).
2. A Conceptual Framework for the Center: Going Beyond Setting Priorities (Sally Kuhlenschmidt, Susan Weaver, Susanne Morgan).
3. A Conceptual Framework for Higher Education Faculty Mentoring (Pamela S. Lottero-Perdue, Steve Fifield).
4. Strategic Committee Involvement: A Guide for Faculty Developers (Phyllis Blumberg).
5. A Model for Putting a Teaching Center in Context: An Informal Comparison of Teaching Centers at Larger State Universities (Wesley H. Dotson, Daniel J. Bernstein).
6. The Value of the Narrative Teaching Observation to Document Teaching Behaviors (Niki Young).
SECTION TWO: Understanding Faculty.
7. Promoting Dialogue and Action on Meta-Professional Skills, Roles, and Responsibilities (Michael Theall, Bonnie Mullinix, Raoul A. Arreola).
8. MacGyvers, Medeas, and Bionic Women: Patterns of Instructor Response to Negative Feedback (Allison P. Boye, Suzanne Tapp).
9. Conversations About Assessment and Learning: Educational Development Scholarship That Makes a Difference (Sue Fostaty Young, Susan Wilcox).
SECTION THREE: Understanding Students and Their Learning.
10. Dysfunctional Illusions of Rigor: Lessons from the Scholarship of Teaching and Learning (Craig E. Nelson).
11. Class Size: Is Less More for Signifi cant Learning? (John Zubizarreta).
12. Weaving Promising Practices for Inclusive Excellence into the Higher Education Classroom (María del Carmen Salazar, Amanda Stone Norton, Franklin A. Tuitt).
13. Communication Climate, Comfort, and Cold Calling: An Analysis of Discussion-Based Courses at Multiple Universities (Tasha J. Souza, Elise J. Dallimore, Eric Aoki, Brian C. Pilling).
14. Theoretical Frameworks for Academic Dishonesty: A Comparative Review (Michele DiPietro).
SECTION FOUR: Enhancing Our Programming.
15. Engaging Faculty in Conversations About Teaching Through a Research Proposal Workshop (Susanna Calkins, Denise Drane).
16. Developing and Renewing Department Chair Leadership: The Role of a Teaching Center in Administrative Training (Mary C. Wright, Constance E. Cook, Chris O'Neal).
17. Rx for Academic Medicine: Building a Comprehensive Faculty Development Program (Megan M. Palmer, Mary E. Dankoski, Randy R. Brutkiewicz, Lia S. Logio, Stephen P. Bogdewic).
18. The Case for Excellence in Diversity: Lessons from an Assessment of an Early Career Faculty Program (Dorothe J. Bach, Mary Deane Sorcinelli).
19. Access to Success: A New Mentoring Model for Women in Academia (Amber Dailey-Hebert, Emily Donnelli, B. Jean Mandernach).
20. Survivor Academe: Assessing Refl ective Practice (Laurel Johnson Black, Terry Ray, Judith Villa).
21. Transforming Teaching Cultures: Departmental Teaching Fellows as Agents of Change (Cassandra Volpe Horii).