To Preserve Biodiversity (Readings from Conservation Biology)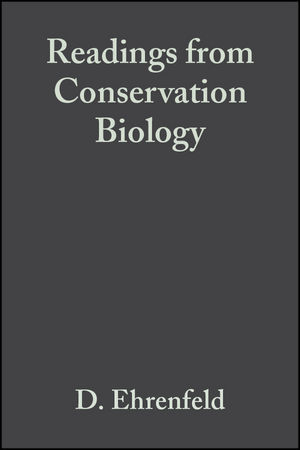 To Preserve Biodiversity (Readings from Conservation Biology)
ISBN: 978-1-444-31378-9 July 2009 Wiley-Blackwell 200 Pages
Description
This new series of readings from Conservation Biology gives easy access to some of the finest papers ever published in a range of important fields. Readings in Conservation Biology can make course preparation easy. It provides a ready-made collection of the best, most representative papers available in a format students can use. Readings will also be invaluable for researchers and academics needing an update in a specific subject area.
Table of contents
The question of management; Sea turtle conservation and halfway technology; Ecological uses of vertebrate indicator species: a critique; Terrestrial arthropod assemblages: their use in conservation planning; The species problem and conservation: what are we protecting?; A possible method for the rapid assesment of biodiversity; Assessing extinction threats: toward a reevaluation of IUCN threatened species categories; Has pine growth declined in the southeastern United States; Assessing forest growth with point sampling data; Movement corridors: conservation bargains or poor investments; Area requirements for the conservation of rain forest raptors and game birds in French Guiana; Use and misuse of forest-harvested fruits in the Iquitos area; How many plants feed the world?; Values and perceptions of invertebrates; Conservation lessons from long-term studies of checkerspot butterflies; Species migrations and ecosystem stability during climate change: the below ground connection; Littoral fish communities in Lake Tanganyika: irreplaceable diversity supported by intricate interactions among species; Polynas as centers of organization for structuring the integrity of Arctic marine communities; Estimates of lethal equivalents and the cost of inbreeding in mammals; Hereditary blindness in a captive wolf (Canis lupus) population: frequency reduction of a deleterious allele in relation to gene conservation; Are small populations of plants worth preserving?; Delayed sexual maturity and demographics of Blanding's turtles (Emydoidea blandingii): implications for conservation and management of long-lived organisms; Minor breeds and major genetic losses; Genetic conservation in feral populations of livestock; Spatial models and spotted owls: exploring some biological issues behind recent events; Meta-analysis: a valuable tool in conservation research; Using montane mammals to model extinctions due to global change; How markets in wildlife meat and parts, and the sale of hunting privileges, jeopardize wildlife conservation; Kangaroo harvesting and the conservation of arid and semi-arid rangelands; Natural capital and sustainable development; For the love of life
What's New
* a highly readable collection of the finest papers in the field * Nature called Conservation Biology "required reading for ecologists throughout the world"