Tomorrow's Professor: Preparing for Academic Careers in Science and Engineering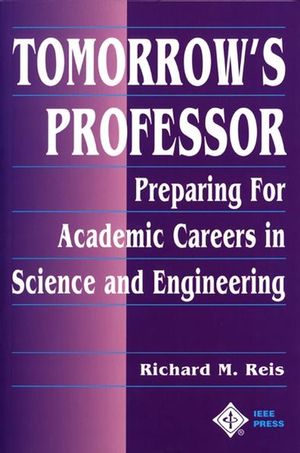 Tomorrow's Professor: Preparing for Academic Careers in Science and Engineering
ISBN: 978-1-118-38712-2
Mar 2012, Wiley-IEEE Press
440 pages
Description
Tomorrow's Professor is designed to help you prepare for, find, and succeed at academic careers in science and engineering. It looks at the full range of North American four-year academic institutions while featuring 30 vignettes and more than 50 individual stories that bring to life the principles and strategies outlined in the book.

Tailored for today's graduate students, postdocs, and beginning professors, Tomorrow's Professor:
Presents a no-holds-barred look at the academic enterprise
Describes a powerful preparation strategy to make you competitive for academic positions while maintaining your options for worthwhile careers in government and industry
Explains how to get the offer you want and start-up package you need to help ensure success in your first critical years on the job
Provides essential insights from experienced faculty on how to develop a rewarding academic career and a quality of life that is both balanced and fulfilling
<NEW> Bonus material is available for free download at http://booksupport.wiley.com
At a time when anxiety about academic career opportunities for Ph.D.s in these field is at an all-time high, Tomorrow's Professor provides a much-needed practical approach to career development.
Preface xiii
Acknowledgments xv
Introduction xvii
PART I Setting the Stage 1
Chapter 1 The Academic Enterprise 3
Unlike Any Other Institution 4
Key Characteristics 6
Governance and Decision Making 13
Institutional Issues 18
A New Look at Scholarship 20
Seven Sample Schools 22
Vignette #1: A Place for Scholarship in Undergraduate Education 27
Chapter 2 Science and Engineering in Higher Education 37
Comparisons Across the Institution 38
Departments of Science 47
Departments of Engineering 48
Interdisciplinary Collaboration 51
Scholarship Across the Disciplines 53
Vignette #2: Science at a Metropolitan University 54
Chapter 3 New Challenges for the Professoriate 59
Forces for Change in Teaching and Research 60
Implications for Faculty Scholarship 71
Vignette #3: The Laboratory Without Walls 76
PART II Preparing for an Academic Career 81
Chapter 4 Your Professional Preparation Strategy 83
The Decision to Pursue an Academic Career 85
Supply and Demand—What is Going on Here? 90
The Three-Pronged Preparation Strategy 95
Vignette #4: A Ph.D. Career in Industry 102
Chapter 5 Research as a Graduate Student and Postdoc 107
Choosing a Graduate School or Postdoc Institution 108
Choosing a Research Topic 111
Choosing a Dissertation Advisor/Postdoc Supervisor 118
Writing Your Own Research Proposals 123
Carrying Out Your Research—An Example 125
Publishing 126
Attending Conferences and Other Professional Meetings 129
Presentations 131
Supervising Other Researchers 133
Managing Research Projects and Programs 1 35
Networking 137
Vignette #5: The Research Continuum 137
Chapter 6 Teaching Experiences Prior to Becoming a Professor 143
Why Teach as a Graduate Student or Postdoc? 144
Types of Teaching Experiences 148
How to Find the Right Teaching Opportunities 155
Preparing for a Successful Experience 156
Your Teaching Portfolio 157
Vignette #6: Teaching as a Postdoc 160
PART III Finding and Getting the Best Possible Academic Position 165
Chapter 7 Identifying the Possibilities 167
Explore Now, Search Later 168
Deciding What You Want 170
Researching What Is Out There 173
Preparing for the Search 176
Vignette #7: From Industry to Academia 177
Chapter 8 Applying for Positions 183
Setting the Stage 185
Preparing Your Application Materials 192
The Application Process 206
Positions Outside Academia 214
Vignette #8: Diversity Issues in the Hiring of Science and Engineering Faculty—An Illustration from Astronomy 216
Chapter 9 Getting the Results You Want 221
Your Negotiating Approach 222
General Principles for Responding to Academic Job Offers 224
Dual-Career Couples 232
What to Do if You Do Not Get the Offer You Want 233
Vignette #9: The Dual-Career Job Search 237
PART IV Looking Ahead to Your First Years on the Job - Advice from the Field 241
Changing Gears 243
Chapter 10 Insights on Time Management 245
Setting the Stage 245
Vignette #10: Establish Your Absence 246
Vignette #11: Set Long-Term Goals 248
Vignette #12: Keep Something on the Burner 250
Vignette #13: How to Help New Faculty Find the Time—One Department Chair's Approach 252
In Addition: Sources of Faculty Stress, Faculty Efficiency, the Urgency Addiction, and Achieving Balance in Our Lives 253
Chapter 11 Insights on Teaching and Learning 261
Setting the Stage 261
Vignette #14: Five Elements of Effective Teaching 266
Vignette #15: Developing Engaged and Responsive Learners 268
Vignette #16: Team Teaching in an Interdisciplinary Program 271
Vignette #17: The Upside-Down Curriculum 272
In Addition: Characteristics of Successful Teachers, Course Planning, Teaching, and Learning with Technology, and Developing a Teaching Portfolio 275
Chapter 12 Insights on Research 289
Setting the Stage 289
Vignette #18: Keeping Your Research Alive 294
Vignette #19: A High-Leverage Approach to Industry-University Collaboration 296
Vignette #20: Multidisciplinary Research and the Untenured Professor 298
Vignette #21: Cross-University Collaborations 300
In Addition: Writing Research Papers 302
Chapter 13 Insights on Professional Responsibility 309
Setting the Stage 309
Vignette #22: Service to Your Department and Your Profession 313
Vignette #23: Consulting and Other Industry Relationships 315
Vignette #24: Teaching and Learning Standards 318
Vignette #25: Professional Responsibility and Academic Duty 320
In Addition: Appropriating the Ideas of Others, Conflict of Interest, and Freedom of Information? 322
Chapter 14 Insights on Tenure 327
Setting the Stage 327
Vignette #26: Leveraging Wherever Possible 333
Vignette #27: Understanding the Priorities 335
Vignette #28: A Second Chance at Tenure 337
Vignette #29: Taking Another Direction 340
Vignette #30: Lessons Learned 342
In Addition: The Ten Commandments of Tenure Success, Tenure as a Political Process, and Getting Help Along the Way 344
Chapter 15 Insights on Academia: Needed Changes 351
Helping Graduate Students and Postdocs Prepare for Academic Careers 351
Helping Graduate Students and Postdocs Find Academic Positions 354
Helping Beginning Faculty Succeed 353
PART V Appendixes 363
Appendix A Possible Items for Inclusion in a Teaching Portfolio 363
Appendix B Statement of Personal Philosophy Regarding Teaching and Learning 367
Appendix C Professional Associations for Academic Job Seekers in Science and Engineering 369
Appendix D Questions to Ask Before Accepting a Faculty Position 373
Appendix E Sample Offer Letters 381
Appendix F Elements Found in Most Successful Proposals 387
Appendix G Common Shortcomings of Grant Proposals 391
Index 393
About the Author 415
Addition Material for Tomorrow's Professor E-book
a. Preface to the E-book b. Chapter 16: Recent Changes in Higher Education That Can Impact your Preparation for an Academic Career c. Hopeful Internet Links for Chapters 1-15
Download