Too Soon To Tell: Essays for the End of The Computer Revolution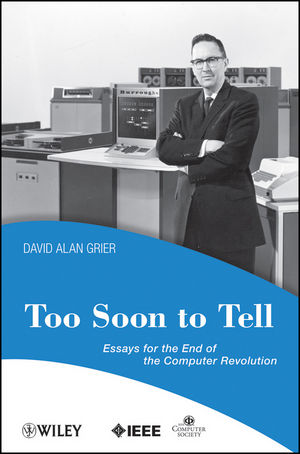 Too Soon To Tell: Essays for the End of The Computer Revolution
ISBN: 978-0-470-08035-1 February 2009 Wiley-IEEE Computer Society Pr 256 Pages
Description
Based on author David A. Grier's column "In Our Time," which runs monthly in Computer magazine, Too Soon To Tell presents a collection of essays skillfully written about the computer age, an era that began February 1946. Examining ideas that are both contemporary and timeless, these chronological essays examine the revolutionary nature of the computer, the relation between machines and human institutions, and the connections between fathers and sons to provide general readers with a picture of a specific technology that attempted to rebuild human institutions in its own image.
Preface: To Have Been Young in that Hour.
Section I: The Computer Era (1946-1973).
Out of Position.
Seymour Cray's Cat.
Songs of Comfort and Joy.
Life on the Frontier.
Museum Pieces.
The Curve of Innovation.
Public Image.
The Enduring Myth of Hardware.
Choosing Our Way.
Friend of the Band.
Family Portrait.
Section II: The Age of Information (1974-1987).
Coming of Age.
Riding with Bohannon.
The Language of Bad Love.
Common Knowledge.
Conflict-Free Memories.
On the Right Side of the Road.
Fork in the Path.
The Best Deal in Town.
Crossing the Divide.
Auditions.
Annie and the Boys.
Mergers and Divestitures.
Old Bottles.
Section III: The Days of Cyberspace: (1986-2007).
Alley Life.
On the Camino Real.
Dirty Electricity.
Because We Were Different.
A Winter of Hope and a Spring of Despair.
Coming into the Country.
Outposts.
The Captured Imagination.
Shutdown.
Force of Nature.
Ever Onward! Thanks for Asking!
Emailing from Armenia.
The Boundaries of Time.
Counting Beans.
The Eyes of the World.
The Lay of the Land.
Circle of Light.
Beyond the Horizon.
Epilogue: Indicator Lamps.
Disclaimers, References and Notes.
Index.
"This work, a publication of IEEE, one of the premier societies of the IT industry, provides a systematic account of the industry's history and its movement from a hardware to a software focus." (CHOICE, November 2009)