Tools for Innovators: Creative Strategies for Strengthening Public Sector Organizations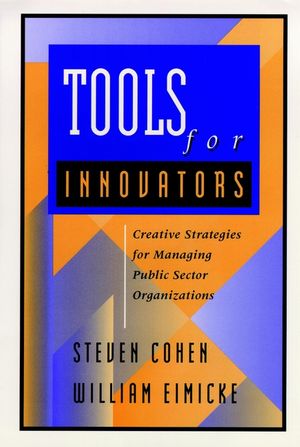 Tools for Innovators: Creative Strategies for Strengthening Public Sector Organizations
ISBN: 978-0-787-90953-6 April 1998 Jossey-Bass 240 Pages
Description
While many books hype the latest fad, here at last (!) is a?realist's' toolbox designed for public administrators who need toknow the costs as well as the benefits of managerial theories andtechnologies.
-- Mel Dubnick, Department of Public Administration at RutgersUniversity and former Managing Editor of the Public AdministrationReview

Today's public administrators must be more than the effectivemanagers of their agencies' internal operations. In order to managea complex set of interorganizational relationships spanninggovernments, nonprofit organizations and private firms in a complexglobal economy, they and their organizations must be capable ofgreat agility and change. Effectiveness is a necessary but notsufficient condition for success: Today's public managers mustreach beyond competence to be creative innovators and agents ofchange.

This book introduces public sector professionals to a set ofinnovation tools: Strategic Planning, Reengineering, Total QualityManagement, Benchmarking, Performance Measurement and Management,Team Management, Privatization. It shows how to understand them,use them and integrate them into any organization, and how theywill take public managers beyond competence to be creativeinnovators.

The creative public manager must continually look for new tools andnew approaches. Tools for Innovators will help in this search, andin meeting and surmounting the challenges of a changing publicsector.
1. Understanding and Applying Innovation Strategies in the PublicSector.

Part One: Public Sector Innovation Tools.

2. Strategic Planning.

3. Reengineering.

4. Total Quality Management.

5. Benchmarking and Performance Management.

6. Team Management.

7. Privatization.

Part Two: Learning from Public Sector Cases.

8. Management Innovation in the New York City Department of Parksand Recreation.

9. Innovation in Collaboration with Business and Nonprofits: TheIndianapolis Private Industry Council.

10. America Works: A Private Company Carrying Out a Public Service.
"While many books hype the latest fad, here at last (!) is arealist's' toolbox designed for public administrators who need toknow the costs as well as the benefits of managerial theories andtechnologies." (Mel Dubnick, Department of Public Administration atRutgers University and former Managing Editor of the PublicAdministration Review)

"A handbook of reinvention-style tools of organizational changewritten by people who have made it work." (David Osborne, co-authorof Reinventing Government and Banishing Bureaucracy, chief authorof the first National Performance Review report, and managingpartner at the Public Strategies Group.")