Tools for Radical Democracy: How to Organize for Power in Your Community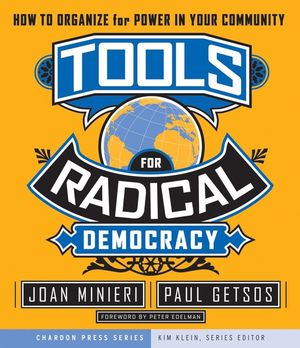 Tools for Radical Democracy: How to Organize for Power in Your Community
ISBN: 978-0-787-99740-3 September 2007 Jossey-Bass 480 Pages
Download Product Flyer
Download Product Flyer
Download Product Flyer is to download PDF in new tab. This is a dummy description. Download Product Flyer is to download PDF in new tab. This is a dummy description. Download Product Flyer is to download PDF in new tab. This is a dummy description. Download Product Flyer is to download PDF in new tab. This is a dummy description.
Description
Tools for Radical Democracy
is an essential resource for grassroots organizers and leaders, students of activism and advocacy, and anyone trying to increase the civic participation of ordinary people. Authors Joan Minieri and Paul Getsos share stories and tools from their nationally recognized and award-winning work of building a community-led organization, training community leaders, and conducting campaigns that changed public policy and delivered concrete results to tens of thousands of people. This how-to manual includes: 
·        In-depth analysis of how to launch and win a campaign
·        Tools and guidelines for training people to lead their own campaigns and organizations
·        Insights for using technology effectively, building more powerful alliances, and engaging in the social justice movement  
Table of contents
Foreword.
Preface: Why We Believe in Organizing and Building Power.
The Authors.
Introduction: The Power of Participation.
The Story of Community Voices Heard.
PART ONE: BUILDING COMMUNITY POWER.
1. Taking It On: Starting to Build Power.
2. Powering Up.
PART TWO: BUILDING A BASE FOR POWER.
3. Recruiting Constituents for Collective Action.
4. Involving Members in Building Their Own Organization.
5. Developing Leaders from All Walks of Life.
6. Uploading Technology.
PART THREE: DEVELOPING AND RUNNING CAMPAIGNS.
7. Identifying the Right Issue.
8. Researching the Politics of an Issue.
9. Developing a Winning Strategy.
10. Planning a Comprehensive Campaign.
11. Implementing an Effective Campaign.
12. Running Kick-A** Actions!
13. Evaluating a Campaign from Beginning to End.
PART FOUR: BUILDING A MOVEMENT.
14. Forging Partnerships for Power.
15. Moving from Self-Interest to Social Change.
Conclusion: Putting Your Principles into Practice.
RESOURCES: SUPPORTING THE WORK OF ORGANIZING.
A. Organizing Lingo.
B. Raising Money for Organizing.
C. Power in the Voting Booth: Electoral Organizing.
D. Training Tips.
E. Approaches to Addressing Community Problems.
F. Creating a Legal Community Power-Building Organization.
G. For More Information.
H. The Phases and Steps of a Campaign: An Annotated Case Example.
Index.
Reviews
"if you're looking for a practical how-to guide to building community power without a lot of excursions into the ins and outs of fundraising, Tools is just the ticket." (
Philanthropy News Digest
, 03/04/08)
" It is well-organized and easy to use." (CharityVillage.com, 10/29/2007)
"…it is refreshing to see a book that focuses downward- at the community level- and outward- at social movements." (Nonprofit Online News, 09/05/2007)
"The authors offer a guide to involving and organizing others -- especially the most marginalized members of society -- in a social-justice movement. Throughout the book are examples of meeting agendas, campaign plans, surveys to determine the key issues that are important to local residents, lists of desired qualities in community-organizing leaders, and other resources that can serve as templates." --Chronicle of Philanthropy, January 10, 2008
Extra
Tools for Radical Democracy Learn how to organize for power in your community! Read an excerpt, learn more about the authors, and see what others are saying about Tools for Radical Democracy.