Tools for Teaching Health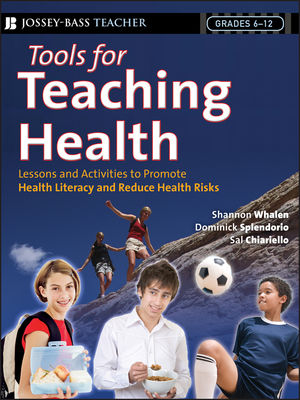 Tools for Teaching Health
ISBN: 978-0-787-99407-5
Mar 2007, Jossey-Bass
320 pages
Description
Tools for Teaching Health presents classroom-tested, ready to use activities and lessons developed and written by highly acclaimed health educators. This much-needed resource provides any health educator who works with various populations with the strategies that will enhance the health education experience and make learning fun. Designed to be practical, all the book's proven activities are reproducible, hands-on, student-centered, and interactive.
Buy Both and Save 25%!
Original Price:$104.95
Purchased together:$78.71
save $26.24
Cannot be combined with any other offers.
Chapter 1:
Tobacco; Icebreaker: Tobacco People Hunt; Lesson 1: Tobacco Grab Bag; Lesson 2: Demonstration Of Tobacco's Harmful Effects; Lesson 3: Tobacco No-No; Lesson 4: Tobacco Decision Making; Lesson 5: Tobacco Talk Show; Home–School Connection: Smoking Interview; Project: Multiple Intelligence Tobacco Project; Assessment: Functional Knowledge And Skills Exam.
Chapter 2: Alcohol; Icebreaker: Concentric Circles; Lesson 1: Alcohol Concept Splash; Lesson 2: Alcohol Simulation Stations; Lesson 3: Drinking And Driving Timeline; Lesson 4: Dysfunctional Families—An Alcohol Story; Lesson 5: Pick-And-Choose Refusal Skills; Home–School Connection: Contract For Life; Project: Show Us The Money! Alcohol Grant Writing; Assessment: Functional Knowledge And Skills Exam.
Chapter 3: Drugs; Icebreaker: Raise Your Hand If You Take Drugs; Lesson 1: Paper Plate Pharmacology; Lesson 2: Refusal Skills And Marijuana; Lesson 3: How Social Is Norm?; Lesson 4: The "I's" Have It; Lesson 5: Up Close And Personal; Home–School Connection: Talking About Marijuana; Project: What's Up In Health? 1; Assessment: Functional Knowledge And Skills Exam.
Chapter 4: Nutrition; Icebreaker: Toilet Paper Game; Lesson 1: Puzzling Pieces; Lesson 2: Did I Eat That? How To Read A Food Label; Lesson 3: What's That?; Lesson 4: Hearty Appetites; Lesson 5: Positive And Negative Weight Loss Cards; Home–School Connection: Favorite Family Recipe; Conversion; Project: Food Diary And Reflection Paper; Assessment: Functional Knowledge And Skills Exam.
Chapter 5: Sexuality Education; Icebreaker: Abstinence Bingo; Lesson 1: Sexuality Brainstorm; Lesson 2: That's My Line; Lesson 3: Raw Oysters Have Feelings, Too!; Lesson 4: Contraception Commercials; Lesson 5: What Are They Selling?; Home–School Connection: Hopes And Fears; Project: Music With A Message; Assessment: Functional Knowledge And Skills Exam.
Chapter 6: Violence Prevention; Icebreaker: Tie Activity—What Do I Want To Be When; I Grow Up?; Lesson 1: Violence Match Game; Lesson 2: Where Do You Stand?; Lesson 3: Managing Anger Round Robin; Lesson 4: Crossing The Line; Lesson 5: Conflict Resolution; Home–School Connection: Television Violence; Project: Production Company; Assessment: Functional Knowledge And Skills Exam.
Chapter 7: Physical Activity; Icebreaker: Who's Who On The Playground?; Lesson 1: The Secret Magic Super Pill For Good Health; Lesson 2: Disco Aerobics; Lesson 3: Physical Activity And Goal Setting; Lesson 4: "Counterfeit Fitness"—The Dangers Of Using Anabolic Steroids And Other; Performance-Enhancing Substances; Lesson 5: A Pound Of Fat—Doing The Weight-Loss Math; Home–School Connection: Physical Activity; Project: Student-Created Public Service Announcements; Assessment: Functional Knowledge And Skills Exam.
Author Platform: Authors are acclaimed and highly active trainers in the world of public health education. They have a nearly 1,000-name e-mailing list of their trainees and are in touch with wholesalers to target the public health education audience.
Standards-Based Curriculum: Tools for Teaching Health's content is based on key risk areas identified by the Centers for Disease Control and on standards for health education from the National Center for Health Education Crednetialins reflecting the core competencies for certification of health education teachers (CHES credential).
Academic Potential:   This book is a perfect complement for courses in "methods and materials" that are part of sequences in Health Education/Health Behavior, Public Health Education, Community Health, and School Health. Examples and exercises have been used in college classroom instruction by the authors.
Breadth: Each chapter includes health education activities, icebreakers and homework for parents in each chapters.
Evaluation and Assessment: Includes guidelines for evaluating programs and assessing classroom lessons.
Ready for the Classroom or Training Setting: Exams with objectives and short answer questions plus answer keys in every chapter.