Toothwear: The ABC of the Worn Dentition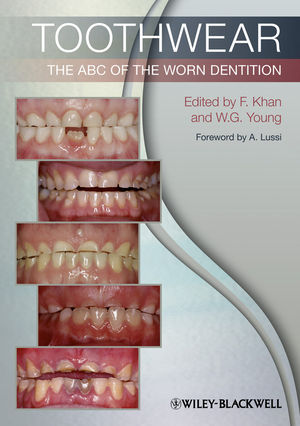 Toothwear: The ABC of the Worn Dentition
ISBN: 978-1-444-33655-9 September 2011 Wiley-Blackwell 248 Pages
Description
This is one of the first books to provide a clinically focussed account of the diagnosis, prevention and treatment of all forms of toothwear. Bringing together the latest research, it is compiled by international leaders in the field to create an essential clinical guide for dental practitioners. The book covers all forms of toothwear and dental erosion, and is presented in a practical format that allows for ease of reference and helps assimilate clinical information quickly. It defines the stages of toothwear, provides schematic approaches to allow better understanding of the key role that saliva plays, and highlights the differences between acid erosion and dental caries. Importantly for clinicians, it provides a framework for developing best practice management strategies by discussing diagnostic skills, treatment planning and therapeutic modalities.



An essential resource based on a solid research platform, this book will provide dental clinical professionals with the missing links they seek to diagnose, prevent, manage, restore and rehabilitate the worn dentition more confidently. It will be of value to dentists, dental therapists, dental hygienists, and students in these areas.

KEY FEATURES

• Covers all forms of toothwear and dental erosion across all age-groups
• Includes discussion of best practice management strategies
• Discusses aetiology, diagnosis, prevention and treatment in a clinical context
• Contains many full colour clinical illustrations and schematic conceptualisations
• Brings together the latest clinical views and research with a wide range of international contributors
Buy Both and Save 25%!
Original Price:$194.98
Purchased together:$146.23
save $48.75
Cannot be combined with any other offers.
Contributors.
Foreword (Adrian Lussi)
1 The multifactorial nature of toothwear (Farid Khan and William G. Young).
Toothwear processes.
Saliva protection.
Intrinsic and extrinsic acids.
Examination of facial, extraoral and intraoral soft tissues.
Toothwear in children.
Toothwear and dental caries.
Toothwear – A multifactorial process.
References.
2 Diagnosis and management of toothwear in children (W. Kim Seow and Sue Taji).
Clinical presentations of toothwear in children.
History-taking, assessment and diagnosis.
Children at increased risk for toothwear.
Management of toothwear in children.
The global perspective.
References.
3 Childhood diet and dental erosion (Louise Brearley Messer andWilliamG. Young).
Dental erosion in children, adolescents and teenagers.
Concerns of patients and parents.
Clinical appearance of dental erosion.
Dietary findings in dental erosion.
Dental erosion as a lifestyle issue.
Recommendations for patients to reduce erosion.
Dental erosion and dental caries compared.
Dietary counselling for children and adolescents.
The key messages.
References.
4 The oral presentation of toothwear in adults (Farid Khan and William G. Young).
Diagnostic modalities.
Surface susceptibility of toothwear and site specificity of dental caries.
The clinical presentation of toothwear.
Charting toothwear.
Application of The Stages of Wear to diagnosing toothwear.
Utilising the charted odontogram to assess patient risk.
Summary.
References.
5 Salivary protection against toothwear and dental caries (Colin Dawes).
Factors causing toothwear.
Factors causing dental caries.
Why does a tooth dissolve in acid?
Sources and components of saliva relevant to toothwear and caries.
Conclusions.
References.
6 Dental diagnosis and the oral medicine of toothwear (William G. Young and Colin Dawes).
The approach.
Mild, moderate or severe toothwear.
Complaint/discovery.
Development.
Attrition.
Abrasion.
Toothbrushing.
Oral hygiene.
Diet erosion.
Gastric erosion.
Sports and social.
Medical.
Addictions, fixations and confidentiality.
The cases.
Summary.
References.8
7 Preventive and management strategies against toothwear (Farid Khan and William G. Young).
Aiming prevention at all ages.
Lifestyle, health and environmental risk factors.
The WATCH strategy.
Adjunctive products.
Diet diaries and review.
Patient's reporting sensitivity.
Treatment planning.
The review appointment.
Summary.
References.
8 Measurement of severity and progression of toothwear (William H. Douglas and William G. Young).
Non-parametric or semi-parametric approaches.
Parametric measurement of toothwear.
Reporting toothwear.
The cases.
References.
9 Biomaterials (Stephen C. Bayne).
Introduction.
Overview of biomaterials wear.
Clinical wear performance of biomaterials.
Comments on special wear situations.
References.
10 The role of toothwear in occlusion (Anders Johansson and Gunnar E. Carlsson).
Development of occlusion.
Patterns of toothwear on anterior palatal and posterior occlusal surfaces and Angle's classification.
Conclusion.
References.
11 Restoration of the worn dentition (Ian Meyers and Farid Khan).
To restore or not to restore is a central question.
Pre-restorative treatment – preparation and planning.
Restorative challenges.
Restoring the stages of wear.
Patient demands, aspirations, aesthetics and case selection.
Conservative restorative options for partial or full-mouth occlusal reconstruction.
Summary.
References.
12 Rehabilitation of the worn dentition (Ridwaan Omar and Ann-Katrin Johansson).
Principles and strategies for rehabilitating worn dentitions.
Conclusion.
References.
Index.
"Overall, the book is a useful adjunct to any dental student or general dental practitioner who wishes to better understand clinical management of tooth wear."  (British Dental Journal, 27 April 2012)