Top Dog: Impress and Influence Everyone You Meet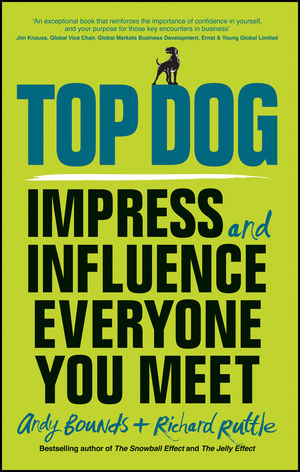 Top Dog: Impress and Influence Everyone You Meet
ISBN: 978-0-857-08609-9 March 2015 Capstone 176 Pages
Description
Get the results you want and come out as the Top Dog in every conversation

Fancy being the 'Top Dog' in all your dealings? Fed up of feeling like the underdog? So many of us regularly 'lose' in conversations before we've even opened our mouths. Often without realising it, we don't see ourselves as a peer of the other person. And we transmit this in what we do and say ("I'll fit round you. I know you're really busy.") The other person picks up on this. And, without doing a thing, they're suddenly in charge!

Top Dog will teach you how to lead in all your interactions, so you can get more of what you want, more often.

Together, Andy Bounds and Richard Ruttle are experts at helping people achieve more from their conversations with others. Their techniques work in every type of interaction—conversations, socialising, dating, interviews, sales, marketing, and networking. Basically, anytime you want to impress and persuade others.

Top Dog:
• Details the skill set needed to gain competitive advantage from the outset
• Provides instructive and thought-provoking content, relevant to both beginners, and seasoned professionals
• Contains insights from working with some of the world's largest companies
• Addresses how to achieve more from interactions in business and social arenas
About the Authors ix
Acknowledgements xi
Introduction 1
1 Lead the pack
Focus on others' successes, not your own 9
2 Drop!
Unlearn the bad habits that hold you back 19
3 The welcome visitor
Make a good first impression 31
4 Pick up the lead
Get – then prepare for – a great first meeting 47
5 Walkies!
Deliver a great first meeting 73
6 Keep walking!
Build momentum in subsequent meetings 95
7 Become Top Dog (1)
Write a compelling proposal/business case 109
8 Become Top Dog (2)
Nail the final presentation 137
9 Stay Top Dog
Lose your fear, and win more 155
"I would definitely recommend the book, especially to people who are a 'one-man band' and rely solely on their ability to find and secure new business" (B2B Marketing, April 2015)

"The book is so packed with resources and advice you might need to read it more than once" (Quality World, December 2015)