Top Hedge Fund Investors: Stories, Strategies, and Advice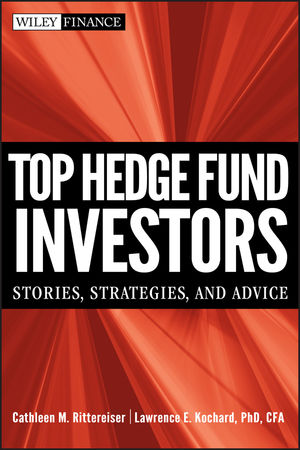 Top Hedge Fund Investors: Stories, Strategies, and Advice
ISBN: 978-0-470-63714-2
Jun 2010
222 pages
Description
A professional's guide to the world of hedge fund investing
Throughout the financial crisis of 2008, many hedge funds suffered massive losses and were often blamed for the extreme market upheavals. In the wake f the crisis, hedge funds remain a source of fascination for the media, legislators, and investors, mostly due to misunderstanding. Historically portrayed as risky investment funds for the very wealthy run by swashbuckling traders, the truth is hedge funds are simply an investment vehicle designed to generate superior returns and reduce an investor's overall portfolio risk.
Investors have good reasons to remain fascinated with hedge funds. Although many individual funds have underperformed or collapsed, hedge funds as a whole have provided solid returns while reducing risks. Savvy institutions have invested in hedge funds for many years and have made them a large and powerful force in the markets. Investing in hedge funds requires sophisticated knowledge, understanding, skill, access, and experience. Individuals and institutions, whether they are new to hedge funds or need to improve, can find those attributes in the stories of the successful hedge fund investors profiled in Hedge Fund Investors.
Hedge Fund Investors chronicles the challenges and rewards these investors face, in selecting hedge fund managers, managing risks, and constructing portfolios. In revealing conversations, leading hedge fund investors who place hundreds of billions of dollars in hedge funds, share their philosophies, strategies, and advice.
Profiles a variety of different investors from the pioneers in hedge fund investing to managers for high net-worth individuals and fund of funds investors
Discusses winners and losers in the recent market decline, problematic hedge fund strategies, and how these current events will change future strategies
Provides lessons, insights, and advice beneficial to all hedge fund investors
Engaging and informative, Hedge Fund Investors will prove valuable to anyone involved in placing money with hedge funds, as well as hedge funds who seek to better understand their clients.
Preface.
Acknowledgments.
About the Authors.
Part One: Evolution of the Hedge Fund Industry and Investing.
Chapter 1: The Truth about Hedge Funds: From Misunderstood Investment Vehicle to Household Word.
Chapter 2: The Investment Process: Best Practices of Successful Hedge Fund Investors.
Chapter 3: The Hedge Fund Investment Landscape: A Snapshot in Time.
Part Two: Top Hedge Fund Investors: Stories and Strategies.
Chapter 4: Author of the Hedge Fund Investing Story: Richard Elden, Founder and Former Chairman, Grosvenor Capital Management.
Chapter 5: The Predictive Value of Performance: Frank Meyer, Founder and Former Chairman, Glenwood Capital Investments.
Chapter 6: The Best Qualities of Limestone: James R. Hodge, President and Chief Investment Officer, Permal Asset Management Inc.
Chapter 7: An Asymmetrical Talent: Mark J. P. Anson, Managing Partner and Chair of the Investment Committee, Oak Hill Investment Management.
Chapter 8: Early Endowment CIO and Entrepreneur: Louis W. Moelchert, Jr., Managing Partner, Private Advisors, LLC.
Chapter 9: An Ambassador of the Highest Standard: Christopher Fawcett, Co-Founder, Senior Partner, Fauchier Partners.
Chapter 10: A Risk Management Mastermind: Deepak Gurnani, Head of Hedge Funds, Investcorp.
Chapter 11: A Driver of Returns: Kathryn A. Hall, Chairman, Chief Executive Officer and Chief Investment Officer, Hall Capital Partners.
Chapter 12: A Better Way: Ted Seides, Co-Founder, Protégé Partners.
Chapter 13: The Quality of the People: A Review and Preview.
Notes.
Index.