Topics in Management Science, 3rd Edition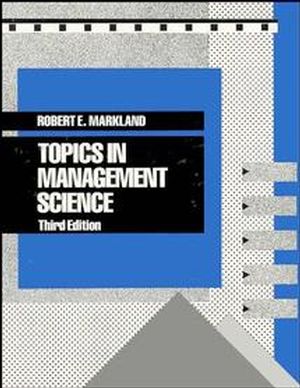 Topics in Management Science, 3rd Edition
ISBN: 978-0-471-61786-0 March 1989 880 Pages
Description
This Third Edition of the popular management science text, featuring more concise coverage of topics, new case studies for all eighteen chapters, and more illustrations, tables, and diagrams. Practical approach teaches students how to use management science techniques in real-world situations. Contains over 500 problems and 200 discussion questions.
Table of contents
LINEAR PROGRAMMING.

An Introduction to Linear Programming.

The Simplex Method.

Duality Theory and Sensitivity Analysis.

The Transportation and Assignment Problems.

Goal Programming.

MATHEMATICAL PROGRAMMING.

Network Models.

PERT/CPM Models.

Integer Programming.

Nonlinear Programming.

Dynamic Programming.

Game Theory.

PROBABLE PROBABILISTIC MODELS.

Waiting Line Models.

Markov Processes.

Inventory Models.

Simulation Models.

Decision Analysis.

SYNTHESIS.

Implementation of Management Science.

Appendices.

Answers to Even Numbered Questions.

Index.