Torah Yoga: Experiencing Jewish Wisdom Through Classic Postures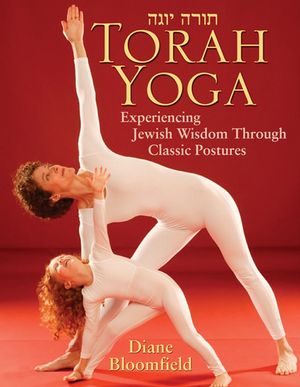 Torah Yoga: Experiencing Jewish Wisdom Through Classic Postures
ISBN: 978-0-787-97340-7 March 2004 Jossey-Bass 192 Pages
Description
This highly original book introduces a fascinating new approach to yoga and Torah by combining the practice of classic yoga postures with traditional and mystical Jewish wisdom. Each chapter begins by presenting a central Jewish spiritual concept that engages readers of all faiths on a personal level. It offers an in-depth exploration of the concept, quoting and commenting on sacred Jewish texts from the Pentateuch (Five Books of Moses) and other sources. It then guides its readers with mastery and clarity through a meditation and a set of fundamental yoga postures--clearly illustrated by beautiful photographs--for both beginning and advanced yoga students. The Torah concept is actualized and experienced through the practice of these postures. Torah Yoga helps to heighten awareness of body, mind, and spirit?it illuminates the heart of Jewish wisdom.
Acknowledgments.
Introduction.
Using This Book.
1. The Hidden Light.
Centering Meditation.
Mountain Posture.
Triangle Posture.
Warrior Two Posture.
Standing Forward Bend.
Simple Sitting Twist.
Bridge Posture.
2. Constant Renewal.
Opening Meditation.
Seated Mountain Posture.
Extended Child Posture.
Downward Dog Posture.
Locust Posture.
Cobra Posture.
3. Leaving Egypt.
Opening Meditation.
Extended Side Angle Stretch.
Wide Legs Standing Forward Bend.
Staff Posture.
Head Beyond Knee Forward Bend.
Reclining Mountain Posture.
Knee-to-Chest Posture.
Reclining Leg Stretch.
Reclining Twist.
Resting with Legs on Chair.
4. The Essential Self.
Opening Meditation.
Chair Twist Posture.
Supported Standing Forward Bend with Chair.
Standing Forward Bend over One Leg.
Revolved Triangle Posture.
Hero Posture.
Resting Fish Posture.
5. Body Prayer and Alignment.
Meet-Your-Spine Meditation.
Upward Reaching Prayer Posture.
Tree Posture.
Warrior One Posture.
Reclining Hero Posture.
Camel Posture.
Bow Posture.
6. Daily Satisfaction.
Centering Meditation.
Cobbler Posture.
Supported Cobbler Posture.
Sitting Forward Bend.
Seated Angle Posture.
Supported Cross-Legged Forward Bend.
7. Remembering to Rest.
Opening Meditation.
Supported Extended Child Posture.
Resting Side Twist.
Supported Fish Posture.
Supported Bridge Posture.
Gentle Inversion Posture.
Relaxation Posture.
Glossary.
Notes.
Annotated Yoga Bibliography.
The Author.
"…Hatha Yoga can enhance…spiritual practice [of other faiths] …Diane Bloomfield…has succeeded brilliantly examining this" (www.yogaandhealthmag.co.uk)