Torrey's Morphogenesis of the Vertebrates, 5th Edition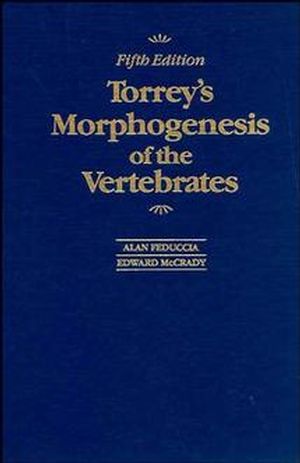 Torrey's Morphogenesis of the Vertebrates, 5th Edition
ISBN: 978-0-471-62314-4
Jan 1991
528 pages
Description
This updated, streamlined, generously illustrated Fifth Edition of the classic text combines comparative vertebrate anatomy and embryology into one easy reference source. Provides an overview of vertebrate evolution, a preview of vertebrate embryology, six chapters on vertebrate development, and then goes through each organ system from both a morphogenesis and comparative anatomy standpoint. Also includes extensive discussions of vertebrate evolution, a large section on developmental preliminaries, an extensive glossary and a new bibliography.
PANORAMA.

History of the Human Body.

Ancestry and History of the Vertebrates.

A Preview of Embryogeny.

DEVELOPMENTAL PRELIMINARIES.

The Gametes.

Fertilization.

Cleavage and Gastrulation: General Considerations.

Cleavage and Germ Layer Formation in Ascidians Amphioxus, and Amphibians.

Avian Cleavage and Germ Layer Formation.

Early Human Development and Placentation.

MORPHOGENESIS OF ORGAN SYSTEMS.

The Skin and Its Derivatives.

The Skeleton.

The Muscular System.

The Alimentary Canal and Its Derivatives.

The Coelom and Mesenteries.

The Urogenital System.

The Circulatory System.

The Nervous System and Sense Organs.

General References.

Supplemental Readings.

Glossary.

Index.