Total Customer Satisfaction: A Comprehensive Approach for Health Care Providers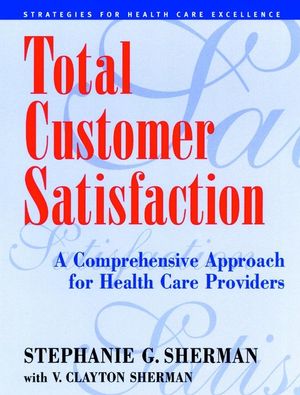 Total Customer Satisfaction: A Comprehensive Approach for Health Care Providers
ISBN: 978-0-787-94392-9 December 1998 Jossey-Bass 400 Pages
Description
A valuable tool for any health care leader dedicated to improvingthe quality of care and enhancing patient satisfaction. Combiningtheory and discussion with a practical `action plan' format,Sherman challenges the reader to think about solutions, not justideas.
--Irwin Press, president, Press, Ganey Associates, Inc.

Whether you're a CEO, a caregiver, or simply someone who caresabout the results of service initiatives, you'll find plenty ofgreat ideas in this book.
--Mark C. Clement, president and CEO, Holy Cross Hospital, Winner,1994 AHA Great Comebacks Award, 1996 International Enterprise Awardfor Customer Satisfaction, 1998 Global Best Practices Award forCustomer Service

Total Customer Satisfaction reports on the breakthrough methodsused by awarding winning hospitals and health care organizations toachieve top-rated national status in customer satisfaction. Learnfrom top experts in the field of how to create and implement totalcustomer satisfaction tactical plan that will boost customersatisfaction ratings in your health care organization.
Cannot be combined with any other offers.
Original Price:$160.00
Purchased together:$120.00
save $40.00
Table of contents
Figures, Tables, and Exhibits.

Preface.

About the Authors.

Chapter 1: Extraordinary Customer Satisfaction: The Facts andthe Promise.

Chapter 2: Eighteen Commandments for Well-Managed CustomerSatisfaction Programs.

Chapter 3: What the Customer Really Wants.

Chapter 4: Measurement Tools That Work.

Chapter 5: Calculating the Cost of Dissatisfied Customers.

Chapter 6: How to Win and Retain Customer Loyalty.

Chapter 7: The Irrational Nature of Customer Satisfaction:Sweating the Small Stuff.

Chapter 8: Building the Customer Satisfaction Team.

Chapter 9: Designing Your Customer Service Strategy.

Chapter 10: Prescriptions for Sustaining Top CustomerSatisfaction Ratings.

Recommended Readings.

Index.
Reviews
"This is must reading for all individuals who want to capture theessence of customer service and the hearts of their employees. Theadditional reward will be improved operational performance."--QuintStuder, president, Baptist Hospital, Inc.

"A totally inclusive book with example after example of how toprioritize your customer satisfaction actions that will give thegreatest return on your investment. After using these helpfulhow-to's for the past year and experiencing the result, I highlyrecommAnd it. Total Customer Satisfaction works!" --John Schwartz,chief executive, Trinity Hospital/Advocate Health Care

"A valuable tool for any health care leader dedicated to improvingthe quality of care and enhancing patient satisfaction. Combiningtheory and discussion with a practical `action plan' format,Sherman challenges the reader to think about solutions, not justideas." --Irwin Press, president, Press, Ganey Associates,Inc.

"Whether you're a CEO, a caregiver, or simply someone who caresabout the results of service initiatives, you'll find plenty ofgreat ideas in this book." --Mark C. Clement, president and CEO,Holy Cross Hospital, and winner of the 1994 AHA Great ComebacksAward, the 1996 International Enterprise Award for CustomerSatisfaction, and the 1998 Global Best Practices Award for CustomerService

"This timely book drives the point home and provides a structure tohelp health care organizations go beyond just measuring; to movefrom listening to responding." --Jerry Seibert, president, ParksideAssociates