Total Quality Process Control for Injection Molding, 2nd Edition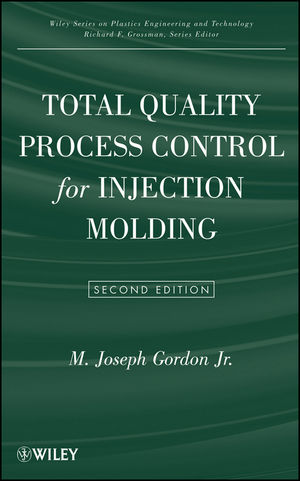 Total Quality Process Control for Injection Molding, 2nd Edition
ISBN: 978-0-470-58448-4
Mar 2010
796 pages
Description
The all-encompassing guide to total quality process control for injection molding
In the same simple, easy-to-understand language that marked the first edition, Total Quality Process Control for Injection Molding, Second Edition lays out a successful plan for producing superior plastic parts using high-quality controls. This updated edition is the first of its kind to zero in on every phase of the injection molding process, the most commonly used plastics manufacturing method, with an all-inclusive strategy for excellence. Beginning with sales and marketing, then moving forward to cover finance, purchasing, design, tooling, manufacturing, assembly, decorating, and shipping, the book thoroughly covers each stage to illustrate how elevated standards across individual departments relate to result in the creation of a top-notch product. This Second Edition:
Details ways to improve plastic part design and quality

Includes material and process control procedures to monitor quality through the entire manufacturing system

Offers detailed information on machinery and equipment and the implementation of quality assurance methods—content that is lacking in similar books

Provides problem-analysis techniques and troubleshooting procedures

Includes updates that cover Six Sigma, ISO 9000, and TS 16949, which are all critical for quality control; computer-guided process control techniques; and lean manufacturing methods
With proven ways to problem-solve, increase performance, and ensure customer satis-faction, this valuable guide offers the vital information today's managers need to plan and implement quality process control—and produce plastic parts that not only meet, but surpass expectations.
Preface.
1. Total Quality Process Control.
ISO 9001.
Documentation.
Establishing Process Ownership.
Ideas and Methods.
2. Implementing Total Quality Process Control (TQPC).
Quality Improvement Plan.
Statistical Process Control (SPC).
Controlling the Process.
Cp the Control of Operations.
Cpk-Centered Process Control.
Establishing Company Quality Objectives.
Customer Quality.
3. Managing for Success, Commitment to Quality.
Objectives for Managing a Quality System.
Proactive Preventive Action.
Total Quality Process Control.
Principles for Quality Systems Engineering.
Objectives for Managing a Quality System.
Customer-Supplier Quality Agreements.
Product Quality Determination.
Form, Fit, and Function (FFF).
Product Requirements.
Existing Mold Considerations.
Establishment of Responsibility.
Department TQPC Responsibility.
Estimated Piece Part Price.
Multifunctionality.
Assembly and Decorating.
Manufacturing Capability.
Computer-Integrated Manufacture (CIM).
Tracking Manufacture.
RFID.
EDI.
Control of Operations.
Process Control.
Control Charting.
International Organization for Standardization (ISO) Accreditation.
Program Monitoring—Communication.
Communicating Quality in Business.
Communications.
Surveys.
Quality Function Deployment (QFD).
QFD in Operation.
Customer Feedback.
Critical to Quality (CTQ).
Building on TQPC, Product Manufacture.
Checklists.
Quality Circles.
Fishbone Analysis.
Failure Mode and Effects Analysis.
Types of FMEAs.
FMEA Timing.
Implementing an FMEA.
FMEA Development.
4. Customer Satisfaction.
Manufacturing and Supplier Input.
Vendor Selection.
Vendor Survey.
Customer and Supplier Agreements.
Vendor Clinics.
Product Requirements.
Product Preproduction Review.
5. Organization Responsibilities.
Quality Operations.
Quality Uniformity.
Compliance Audits.
Six Sigma Introduction.
Procedure.
Quality Problems.
TQPC Management Operations.
Preventive Action.
6. Establishing the Limits for Quality Control.
Preproduction Product Analysis.
Taguchi Methods.
Prototyping.
Mold Limits.
Material Selection.
Calculation of Plastic Part Cost.
Case Study of Product Cost Analysis.
Estimating Part Cycle Time.
Mold Part Cavity Estimation.
Mold Size Considerations.
Injection Molding Machine Selection.
Melt Generation.
Molding Machine Screw-type Considerations.
Machine Hourly Rate.
Machine Setup Charges.
Calculating Product Manufacturing Cost.
Material Supplier Limits.
Establishing Manufacturing Limits.
Auxiliary Equipment.
In-Process Inspection.
Establishing Total Quality Process Control.
Acceptable Quality Limits.
7. Material Selection and Handling.
Thermosets.
Thermoplastics.
Classifying the Polymers.
Product Certifi cation.
Material Specifi cation.
Product Variable Specification.
Incoming Material Testing.
Material Testing Equipment.
Material Safety Data Sheets.
Record Accuracy.
Bar Coding: An Aid in Total Quality Process Control.
Regrind Control.
Material Handling and Storage.
Regrind Usage.
Processing Aids.
8. The Mold.
Computer-Integrated Manufacture.
Pre-mold Design Checklist.
Tooling.
Selecting Materials for the Mold.
Cavity Selection.
Runner Systems.
Cavity Runner Layout.
Runner System Design.
Gating the Part.
Sprues and Nozzles.
Parting Lines.
Side Core Pulls.
Core Selection.
Part Ejection.
Venting the Cavity.
Core Venting.
Positive Cavity Venting.
Temperature Control.
Cooling Systems.
Mold Connection Types.
Cooling Time.
Mold Shrinkage.
Hot-Runner Molds.
Mold Maintenance.
9. Manufacturing Equipment.
Machinery Selection.
Process Control.
Electric Injection Molding Machines.
Injection Molding Machine Nomenclature and Operation.
Reciprocating Screw Injection Molding Machine.
The Injection Molding Machine.
Selecting Barrel Heater Conditions.
Pyrometer.
Thermocouples.
Mold Fit and Support.
Machine and Mold Clamping Systems.
Vented-Barrel Machines.
Maintenance of Machinery.
10. Auxiliary Equipment.
Material Feeders and Blenders.
Automatic System.
Central Systems.
Material Feed to the Injection Molding Machine.
Material Blending at the Hopper.
Blending Quality Checks.
Color Concentrate Blending.
Regrind Usage.
Material Drying.
Plant Equipment Cooling Systems.
Granulators or Grinders.
Part Removal, Conveyor Systems, and Robots.
Quality Inspection Equipment.
Quick Mold Change.
11. Processing.
Production Startup for Process Control.
Acceptable Quality Level Limits.
Networking Production.
The Injection Molding Process.
Injection Molding Startup.
Other Molding Variables.
Fine Tuning the Cycle.
Regrind Effects on Part Quality.
Determining the Missing Variable.
Process Control Charting.
Maintaining Process Control.
Quality Maintenance.
Solutions to Typical Molding Problems.
Controlling and Monitoring Process Variables.
Process Line Integration.
12. Part Testing at the Machine.
Selecting the Test.
Verifying Molding Conditions.
Destructive Tests.
Nondestructive Tests.
Testing of Plated Parts.
Post-Mold Shrinkage Testing.
Conditioned Parts.
13. Part Handling and Packaging.
Planning.
Part Removal.
Part Handling and Packaging.
Automatic Part Packaging.
Robots.
14. Part Design Influence.
Selecting the Correct Design Parameters.
Material Selection.
Part Design for End-Use Applications.
Threads.
Undercuts.
Inserts.
Insert Loading.
Integral Hinges.
15. Assembly Techniques.
Plan for Assembly.
Automated Assembly.
Automated Inspection.
Assembly Techniques.
16. Decorating Considerations.
Control of the Process.
Decorating Techniques.
Surface Preparation.
Molded Colors.
Surface Finish.
Painting.
Spray and Wipe.
Two-Shot Molding.
In-Mold Decorating.
Vacuum Metallizing.
Electroplating.
Flocking.
Gravure Decorating.
17. Customer and Employee Satisfaction.
Quality Awareness.
Appendix A. Quality Management System (QMS) Control of Documents Procedure.
Appendix B. Design of Experiments (DOE): Statistical Troubleshooting Process Screening for Reducing the Number of Variables.
Appendix C. Checklists.
Appendix D. Supplier Evaluation Survey.
Appendix E. Mold Problem Solutions.
Appendix F. Decoration & Information Solutions.
Glossary.
Bibliography.
Index.
""In this lengthy book, a total quality approach for injection moulding applications is presented . . . hence, the book provides practical assistance for operators that have to produce proper parts without delay and defaults. In addition, the book gives a good introduction for quality managers to set up a TQM approach within their company."" (Materials Views, 2 June 2011)
""In the same simple, easy-to-understand language that marked the first edition, Total Quality Process Control for Injection Molding, Second Edition lays out a successful plan for producing superior plastic parts using high-quality controls"". (Daily Finance, 14 December 2010)