Tour De France For Dummies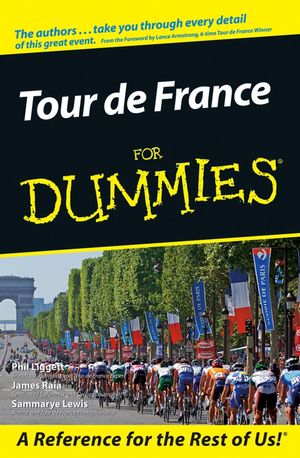 Tour De France For Dummies
ISBN: 978-1-118-07010-9
May 2011
279 pages
Description
A plain-English guide to the world's most famous-and grueling-bicycle race
Featuring eight-pages of full-color photos from recent Tour de France races, this easy-to-follow, entertaining guide demystifies the history, strategy, rules, techniques, equipment, and competitors in what is arguably the most grueling and intriguing multiday, multistage sporting event in the world. Cowritten by the most popular English-speaking cycling commentator on the planet, this book is great reading for both experienced and the new bicycle racing fans alike.
Foreword.
Introduction.
Part I: A Bicycle Race Unlike Any Other.
Chapter 1: Answering All Your Tour Questions.
Chapter 2: Understanding the Tour de France Race Routes.
Chapter 3: The Races within the Race.
Part II: How the Race Is Run and Won.
Chapter 4: It's All about the Team.
Chapter 5: More Tour Rules Than You Ever Want to Know.
Chapter 6: Understanding Race Strategies.
Part III: Loving the Ride: A Man and His Bike.
Chapter 7: Who Are These Guys and How Do They Do It?
Chapter 8: Spending a Day in the Life of a Rider.
Chapter 9: Having the Best Equipment in the Bunch.
Part IV: Watching the Race.
Chapter 10: Perfecting the Art of Spectating from Home.
Chapter 11: Going to the Tour: A Brief Guide.
Part V: The Part of Tens.
Chapter 12: Ten Greatest Riders in Tour History.
Chapter 13: The Ten Most Important Tours in History.
Chapter 14: Ten Unique Tour de France Statistics.
Chapter 15: Ten Dramatic Tour de France Moments.
Chapter 16: Ten Great Tour Climbs and Mountaintops.
Chapter 17: Ten Other Important Races.
Glossary.
Index.