Tourism Management, 3rd Edition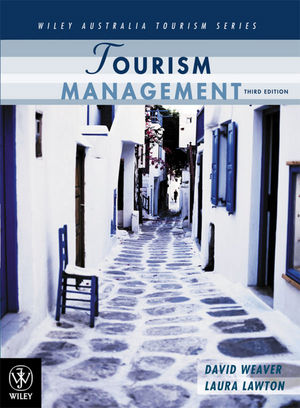 Tourism Management, 3rd Edition
ISBN: 978-0-470-80954-9 January 2007 504 Pages
Download Product Flyer
Download Product Flyer
Download Product Flyer is to download PDF in new tab. This is a dummy description. Download Product Flyer is to download PDF in new tab. This is a dummy description. Download Product Flyer is to download PDF in new tab. This is a dummy description. Download Product Flyer is to download PDF in new tab. This is a dummy description.
Description
Tourism Management, Third Edition, builds upon the strength of the previous editions by introducing students to the complexities of the tourism system. The third edition has been updated with recent industry and research developments and retains the thoroughness of content and application that had been established in the previous editions. A theme of this edition is looking at the challenges of tourism in a time of regional and international uncertainties and complexities as a consequence of terrorism and security threats, health issues such as SARS, natural events like the Boxing Day Tsunami and the changing geo-political landscape.
Table of contents
Preface.
Acknowledgments.
Chapter 1 Introduction to Tourism Management.
Chapter 2 The Tourism System.
Chapter 3 The Evolution and Growth of Tourism.
Chapter 4 Destinations.
Chapter 5 The Tourism Product.
Chapter 6 Tourist Markets.
Chapter 7 Tourism Marketing.
Chapter 8 Economic Impacts of Tourism.
Chapter 9 Sociocultural and Environmental Impacts of Tourism.
Chapter 10 Destination Development.
Chapter 11 Sustainable Tourism.
Chapter 12 Tourism Research.
Appendix 1 Selected International and Australian Tourism Organisations.
Appendix 2 Refereed English Language Tourism Journals (2005).
Appendix 3 Inbound and Outbound Tourism Data.
References.
Glossary.
Index.
New To This Edition
New Technology in Tourism highlights the increasing role of technology tools and systems in the tourism industry, including virtual reality, artificial reefs, geographical information systems, energy cogeneration and hand-held computers
Australian and international statistics and information updated as of 2004
Increased coverage of regional tourism issues and initiatives
More coverage of the key tourism players - government, industry and individuals, and their role in managing tourist systems in times of uncertainty
Features
A thorough discussion of the economic, sociocultural and environmental impacts of tourism
Includes a chapter on sustainable tourism including ecotourism, sustainable mass tourism and industry responses and practices
Includes a chapter on tourism research which introduces students to the important role of research in tourism  
Three practical features in each chapter to illustrate and reinforce the theory:

Managing tourism: illustrates how a tourism-related process, destination or company has been managed and considers the issues involved in doing so
Contemporary issue: a brief case study which discusses a contemporary tourism issue such as the effect of terrorism on tourism, the role of movies and TV in triggering tourism development, and the implications of climate change
Breakthrough tourism: discusses a leading edge company, destination or development in the tourism sector, including outer space tourism, and webcasting

Chapter review summarises the key points of each chapter and contains a summary of key concepts arranged to show the links between concepts and their sub-concepts
Discussion questions and practical exercises in each chapter
Appendixes giving basic tourism statistics for all countries as well as information on tourism journals and organizations
New case studies in all chapters illustrate the themes presented in the chapters.  These case studies present real-life experiences; examples include the issues of sustainability with environmentally sensitive tourist regions, emerging tourist markets like China and the ability of tourist systems to respond to crisis and disasters like experience with the Indonesian tsunami of 2004.