Tourism Planning: An Integrated and Sustainable Development Approach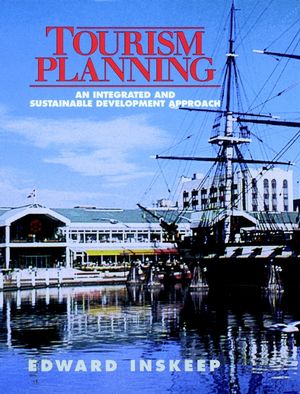 Tourism Planning: An Integrated and Sustainable Development Approach
ISBN: 978-0-471-29392-7 March 1991 528 Pages
Description
This book provides the reader with guidelines and approaches in the development of tourism that respond to community desires and needs. Planning techniques applicable to both developed and underdeveloped countries address tourist attractions, urban tourism, large resorts, and limited special interest tourism.
UNDERSTANDING TOURISM PLANNING.

Background for Tourism Planning.

Approach to Tourism Planning.

NATIONAL AND REGIONAL TOURISM PLANNING.

The Planning Process and General Surveys.

Tourist Attractions and Activities.

Tourist Markets, Facilities, Services, and Infrastructure.

Planning Analysis and Synthesis.

Tourism Policy and Plan Formulation.

COMMUNITY LEVEL OF TOURISM PLANNING.

Planning Tourist Resorts.

Planning Urban and Other Forms of Tourism.

Planning Tourist Attractions.

Development and Design Standards.

ENVIRONMENTAL AND SOCIOECONOMIC CONSIDERATIONS.

Environmental Impacts.

Socioeconomic Impacts.

INSTITUTIONAL ELEMENTS AND PLAN IMPLEMENTATION.

Planning the Institutional Elements of Tourism.

Tourism Plan Implementation.

Appendices.

Selected Bibliography.

Index.