Tourism Planning and Policy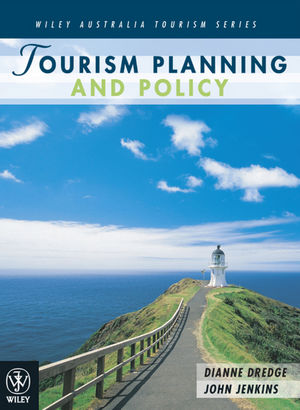 Tourism Planning and Policy
ISBN: 978-0-470-80776-7
Dec 2006
504 pages
Product not available for purchase
Description
Informed tourism policies and plans require a critical appreciation of the historically complex and dynamic contexts in which public policy is developed and implemented, and of the impacts of public policy. The principle aim of Tourism Planning and Policy is to raise students' and practitioners' knowledge of tourism planning and policy-making and help develop their skills in analysing policy and planning processes and outcomes in diverse settings. A second aim of the book is to give practical insights and understandings that students will be able to apply in a range of careers in the private sector or the public service. This text forms a valuable addition to the Wiley Australia Tourism Series.
* Introduction to Tourism policy & planning -
Dianne Dredge & John Jenkins
* The state, institutions and actors -
Dianne Dredge
* Historical development -
Dianne Dredge & John Jenkins
Trends, Perspectives and Practice -
John Jenkins
* Policy Instruments, Implementation and Evaluation -
Dianne Dredge
* Tourism Policy and Planning Processes -
Dianne Dredge & Meredith Lawrence
* National Tourism Policy and Planning -
John Jenkins
* Regional Tourism Policy & Planning -
Christof Pforr
* Local Destination Planning & Policy -
Dianne Dredge
* Protected Lands -
James Higham & Harry Maher
* Protected Marine Areas -
Carl Cater & Erlet Cater
* Indigenous Tourism -
Heather Zeppell
* Conclusion: Challenges and Issues -
Dianne Dredge & John Jenkins
Excellent coverage of topics including chapters on trends, perspectives and practice, Indigenous tourism, local tourism, and protected areas.

Case studies conclude each chapter to illustrate the application of concepts, theories, models, principles and processes. 

A wealth of end of chapter material including key terms, questions and exercises to enhance scholarly review of the content of each chapter. 

Two practical features in each chapter illustrate and reinforce chapter content: 

Planning in Practice: presents how a tourism issue has been implemented and/or managed. Topics include public interest in Wilson's Promontory National Park, regional amalgamations in Western Australia, the managing dolphin feeding at Tin Can Bay, and the United Nations convention on the Law of the Sea.

Tourism Planning Breakthrough: presents an example of a cutting edge tourism plan or process. Topics include implementing the reef tax, the Tourism Impact Model, coral cay conservation, and Indigenous tourism in protected areas.