Tourism and Recreation in Rural Areas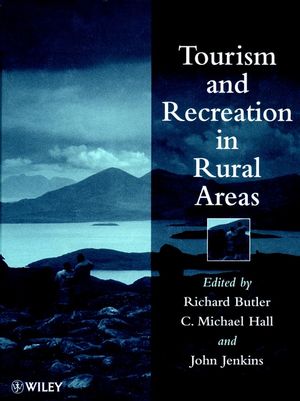 Tourism and Recreation in Rural Areas
ISBN: 978-0-471-97680-6
Jun 1998
274 pages
Description
Recent years have witnessed a change from the passive, low key use of rural areas for recreation to the explosion of tourism as a highly active and dominant agent of change and control in the countryside and associated rural communities. This book considers the effects of rural recreation and tourism with special reference to:
* the economics of rural restructuring
* public sector rural policies
* imaging and reimaging
* the social dynamics of rural change
* sustainability of tourism and recreation in rural areas
Contemporary reflections of each of these issues are brought together by Richard Butler, C. Michael Hall and John Jenkins from experts in Australasia, North America and Europe. The book provides a critical evaluation of the enthusiasm and promotion given to this growth industry by government and private bodies, and examines opportunities and challenges associated with the development and management of tourism in a rural environment.
CONTINUITY AND CHANGE IN RURAL TOURISM.

TOURISM AND RECREATION POLICY DIMENSIONS.

The Policy Dimensions of Rural Tourism and Recreation (C. Michael Hall & J. Jenkins).

The Restructuring of Rural Economies: Rural Tourism and Recreation as a Government Response (J. Jenkins, et al.).

Rural Tourism Development: Canadian Provincial Issues (D. Reid).

Rural Tourism in Otago and Southland, New Zealand (G. Kearsley).

Local and Resort Development (A. Gill).

IMAGE AND REIMAGING OF RURAL AREAS.

Image and Reimaging of Rural Areas (R. Butler & C. Hall).

Images of Heritage in Rural Regions (J.-M.

Dewailly).

Commodifying the Countryside: Marketing Myths of Rurality (J. Hopkins).

Rural Festivals and Community Reimaging (R. Janiskee & P. Drews).

SOCIAL AND ECONOMIC DYNAMICS.

Rural Landholder Attitudes: The Case of Public Recreational Access to 'Private' Rural Lands (J. Jenkins & E. Prin).

Wine Tourism in Australia and New Zealand (C. Hall & N. Macionis).

Farm Tourism in New Zealand (M. Oppermann).

The Significance of Tourism and Economic Development in Rural Areas: A Norwegian Cast Study (J. Saeter).

CONCLUSIONS.

Conclusion: The Sustainability of Tourism and Recreation in Rural Areas (R. Butler & C. Hall).

Index.
"...this book provides a critical evaluation of the enthusiasm and promotion given o this growing industry...contains past and present examples...providing a very good historical perspective...this book can offer some lessons for both students and practitioners." (Toursim Analysis, Vol.6, 2001)