Toward Zero Discharge: Innovative Methodology and Technologies for Process Pollution Prevention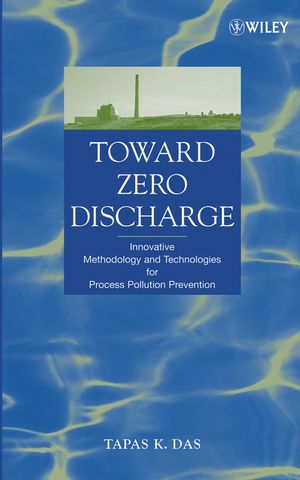 Toward Zero Discharge: Innovative Methodology and Technologies for Process Pollution Prevention
ISBN: 978-0-471-46967-4
Apr 2005
744 pages
Description
This book discusses pathways to achieve pollution prevention and waste minimization at the sources leading toward zero discharge. Coverage includes life cycle assessment, industrial ecology, eco-industrial parks, green engineering, and sustainable chemical and allied processes and products development. The pulp and paper industry is introduced as a case study in demonstrating how this industry is achieving pollution prevention goals by various techniques, and how this industry has become a minimum impact industry, moving towards achieving zero discharge status in most process areas.
Featuring a collection of expert authors, this book is essential reading for industrial ecologists and engineers, material scientists, and state and federal officials.
Foreword.
Acknowledgments.
1 INTRODUCTION.
1.1 Waste as Pollution.
1.2 Defining Pollution Prevention.
1.3 The Zero Discharge Paradigm.
1.4 The Structure of the Book.
PART I: METHODOLOGY.
2 ZERO DISCHARGE INDUSTRIES.
2.1 Sustainability, Industrial Ecology and Zero Discharge.
2.2 Why Zero Discharge is Critical to Sustainability.
2.3 The New Role of Process Engineers and Engineering Firms.
2.4 Zero Discharge Methodology.
2.5 Making the Transition.
2.6 In the Full Zero Discharge Paradigm.
2.7 Separation—A Key Conversion Technology.
2.8 Constraints and challenges.
3 FUNDAMENTALS OF LIFE CYCLE ASSESSMENT.
3.1 What is Life Cycle Assessment?
3.2 Conducting LCA.
3.3 LCA and LCI Software Tools.
3.4 Evaluating the Life Cycle Environmental Performance of Two Disinfection Technologies.
3.5 Case Study: Comparison of LCA of Electricity from Biorenewables and Fossil Fuels.
4 ASSESSMENT AND MANAGEMENT OF HEALTH AND ENVIRONMENTAL RISKS.
4.1 Health Risk Assessment.
4.2 Assessing the Risks of Some Common Pollutants.
4.3 Ecological Risk Assessment.
4.4 Risk Management.
4.5 Communicating Information on Environmental and Health Risks.
4.6 Environmental Information on the Internet.
5 ECONOMICS OF POLLUTION PREVENTION: TOWARD AN ENVIRONMENTALLY SUSTAINABLE ECONOMY.
5.1 Economics of Pollution Control Technology.
5.2 Best Available Control Technology: Application to Gas Turbine Power Plants.
5.3 Case Study: The North Carolina Clean Smokestacks Plan.
5.4 Sustainable Economy and The Earth.
6 SUSTAINABILITY AND SUSTAINABLE DEVELOPMENT.
6.1 Introduction.
6.2 Sustainable Production and Growth for the Chemical Process Industries.
6.3 Integrating Life Cycle Assessment in Sustainable Product Development.
6.4 Biorenewable Energy Resources.
6.5 Applying the Metrics of Sustainability to Transform Business Practices and Public Policy.
6.6 Toward a Hydrogen-based Sustainable Economy.
6.7 Bio-Based Chemicals and Engineered Materials.
6.8 Eco-Efficiency and Eco-industrial Parks.
6.9 Process Intensification and Microchannel Reaction.
PART II: TECHNOLOGIES AND APPLICATIONS
7 ZERO DISCHARGE TECHNOLOGY.
7.1 Zero Water Discharge Systems.
7.2 Case Study: Gas Turbine NO<sub>x</sub> Emissions at General Electric.
7.3 Questions of Regulatory Policy.
7.4 Smokestack Emissions.
7.5 Eco-Industrial Parks: Model Zero Discharge Communities.
8 TECHNOLOGIES FOR POLLUTION PREVENTION: AIR.
8.1 Some On-going Pollution Prevention Technologies.
8.2 Some Emerging and Innovative Processes.
9 TECHNOLOGIES FOR POLLUTION PREVENTION: WATER.
9.1 Advances in Wastewater Treatment Technologies.
9.2 Some Emerging and Innovative Processes.
9.3 Groundwater Quality.
10 TECHNOLOGIES FOR POLLUTION PREVENTION: SOLID WASTE.
10.1 Solid Waste Treatment: Some Perspectives on Recycling.
10.2 Plastic Recycling in a Developing Country: A Paradoxical Success Story.
10.3 From Waste to Energy: Catalytic Steam Gasification of Poultry Litter.
11 MINIMIZATION OF ENVIRONMENTAL DISCHARGE THROUGH PROCESS INTEGRATION.
11.1 Energy Integration and Heat Exchange Networks.
11.2 Mass Integration.
11.3 Water Optimization and Integration.
11.4 Industrial Applications of Heat Integration and Mass Integration.
11.5 Further Reading.
11.6 Final Thoughts.
12 PROCESS POLLUTION PREVENTION IN THE PULP AND PAPER INDUSTRY.
12.1 Environmental Management in the Pulp and Paper Industry.
12.2 Pollution Prevention in the Pulp and Paper Industry.
12.3 Resource Recovery and Reuse.
13 PROGRESS TOWARD ZERO DISCHARGE IN PULP AND PAPER PROCESS TECHNOLOGIES.
13.1 Three Case Studies.
13.2 Additional Concerns Addressed by Zero Discharge Technology.
13.3 Other Emission Recovery and Control Processes.
13.4 Conclusions.
Epilogue — Final Thoughts.
Index.