Towards Personalized Medicine for Cancer, Volume 1210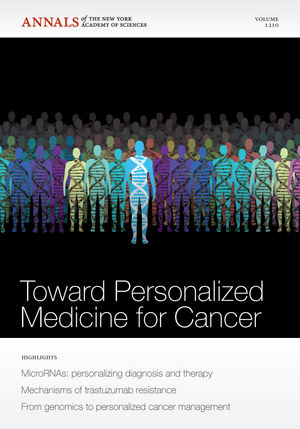 Towards Personalized Medicine for Cancer, Volume 1210
ISBN: 978-1-573-31815-0 November 2010 Wiley-Blackwell 252 Pages
Description
This volume explores cancer as an individualized problem and addresses the impact of recent advances in cancer biology, genetics, tumor profiling, and medical technology in the personalization of cancer predisposition, diagnosis, prognosis, treatment, and therapy development.
Featuring contributionsfrom basic and clinical scientists, this volume brings together work from different areas of individualized oncology to help improve the global concept of the personalized cancer care, and identify commonalities, pitfalls, and steps forward.
NOTE: Annals volumes are available for sale as individual books or as a journal. For information on institutional journal subscriptions, please visit http://ordering.onlinelibrary.wiley.com/subs.asp?ref=1749-6632&doi=10.1111/(ISSN)1749-6632.
ACADEMY MEMBERS: Please contact the New York Academy of Sciences directly to place your order (www.nyas.org). Members of the New York Academy of Science receive full-text access to the Annals online and discounts on print volumes. Please visit http://www.nyas.org/MemberCenter/Join.aspx for more information about becoming a member.