Towards Prescribing Practice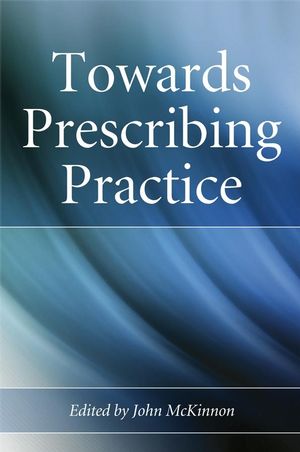 Towards Prescribing Practice
ISBN: 978-0-470-02843-8
Apr 2007
304 pages
Description
The variety and number of non-medical practitioners identified for prescribing activity is growing rapidly. Across the country, universities have validated prescribing programmes designed for generic health care practice with a distance-learning component.

Towards Prescribing Practice offers readers a comprehensive guide to the principles and practice of prescribing. The subject matter relates to the government content standards for study programmes and takes its cue from recent research in prescribing and patient care in practice. This book embraces the perennial core principles of prescribing practice, management and leadership.

Content is organised to facilitate progressive learning, with space allocated in each chapter to practice application through discussion and exercises. The early inclusion of a section on patient-centred planning and concordance enables the reader to assimilate new knowledge within an individualised care approach. The final three chapters are written from different clinical perspectives: mental health, palliative care and emergency care, providing assistance to specific areas of prescribing practice.
List of contributors.
Acknowledgements.
Chapter One: Understanding Basic Pharmacology (John McKinnon).
Chapter Two: Patient Centred Planning and Concordance (John McKinnon).
Chapter Three: The Application of Ethical Frameworks to Prescribing (John McKinnon).
Chapter Four: The Public Health Context (John McKinnon).
Chapter Five: Clinical Governance (Ruth Goldstein).
Chapter Six: Collaborative Working and Clinical Management Plans (John McKinnon).
Chapter Seven: Consultation and Decision Making (Clare Allen).
Chapter Eight: Legislation, Regulation and Accountability in Prescribing (Jo West).
Chapter Nine: The Palliative Care Perspective (Yvonne Hopkins and Linda Bray).
Chapter Ten: The Mental Health Perspective (Stuart Kennedy).
Chapter Eleven: The Emergency Care Perspective (Ian Loveday and Richard Pilbery).
"A great foundation for the prescriber. What is particularly heartening is that it offers a realistic approach." (International Emergency Nursing, 2008)
The first book of its kind being written at the threshold of comprehensive non- medical prescribing.
Patient-centred and written with all non medical health care professionals in mind. 
Addresses the principles and art of prescribing.
It is the ideal companion for the prescribing student.
The authors have a background in teaching and advanced practice in nursing, pharmacy, paramedic and legal practice in a wide range of settings.