Towers of Capital: Office Markets and International Financial Services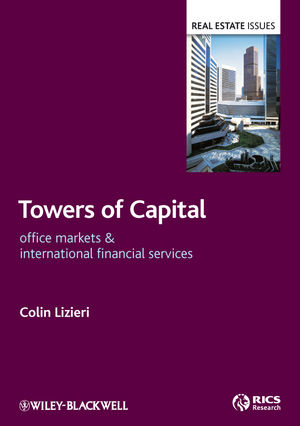 Towers of Capital: Office Markets and International Financial Services
ISBN: 978-1-444-32090-9 November 2009 Wiley-Blackwell 344 Pages
Description
Are global city office markets inherently unstable?

This examination of office markets in major world cities analyses the flows of capital that create urban form, the nature of ownership, investment and occupation and the impact of office markets on economic stability.

Towers of Capital – office markets & international financial services explores the relationship between the evolution of major international financial centres as part of the global capital market system, the development of office markets in those cities, real estate investment in those office markets and the patterns of risk and return that result from the interactions between financial flows and office markets.

Rather than focusing on just one single aspect of the relationship, Colin Lizieri sets out the interconnections between the location of financial activity, the processes operating in office markets and the volatility of real estate returns. The resulting schematic model of IFC office markets provides insights into risk and will act as a springboard for subsequent empirical work.

Towers of Capital develops a framework for understanding real estate and the transformation of the built environment in financial centres, based both on the development of global capital markets and on micro-level research into the functioning of office markets.

By drawing together the insights, models and ideas that address global capital flows, the evolution of city systems, office market processes and real estate finance, the book will help students and researchers in property and urban planning, investors and policy advisors to understand the linkages between the evolution of financial markets, innovation in commercial real estate markets and the dynamics of the office markets in global cities.
About the Author
Acknowledgements
Introduction
PART I SYSTEMS OF CITIES AND CITIES OF FINANCE
Introduction
1 The Urban Hierarchy and Global Cities
1.1 Introduction
1.2 Cities and the urban hierarchy
1.3 World cities, global cities
1.4 Cities, space and finance
2 International Financial Centres and Global Cities
2.1 Introduction
2.2 Concentration in financial centres
2.3 Information technology and cities
2.4 Agglomeration and concentration
2.5 IFCs, concentration and office markets
3 A Sense of History: Development and Inertia in the International Financial Hierarchy
3.1 Introduction
3.2 A sense of history
3.3 'The age of catastrophe'
3.4 Asian and Middle Eastern markets
3.5 Lessons of history: a tentative conclusion
PART II INSIDE THE OFFICE MARKET
Introduction
4 Occupational Demand, Office Space and Rents
4.1 Introduction
4.2 Land value, land rent and financial services
4.3 Rent models and rental adjustment
4.4 Empirical evidence of rental adjustment processes in major office markets
4.5 Changing business practices and the demand for office space
4.6 Employment, volatility and the use of space
5 The Supply of Space
5.1 Developers, development cycles and research
5.2 Development, building costs and property value
5.3 Economic models and developer behaviour
5.4 Real options and developer strategies
6 Investment, Capital Flows and the Office Market
6.1 Introduction
6.2 Real estate in the portfolio
6.3 Investment patterns and investor behaviour
6.4 Real estate vehicles and the portfolio
6.5 International real estate investment
6.6 Real estate capital flows
6.7 Investment, capital flows and IFC office markets
PART III INTERNATIONAL FINANCE, GLOBAL OFFICE MARKETS AND SYSTEMIC RISK Introduction
7 Booms, Bubbles, Crises and Contagion
7.1 Introduction
7.2 Financial markets, co-movement and crises
7.3 Booms and bubbles
7.4 Real estate in booms and bubbles
7.5 Bubbles, crashes and IFC office markets
8 Globalisation, Ownership and Innovation in Real Estate Markets
8.1 Introduction: innovation in real estate investment and ownership
8.2 Innovation in property investment vehicles
8.3 Global real estate investment
8.4 Ownership patterns
8.5 Conclusions: innovation, ownership and real estate risk in IFCs
9 All Fall Down: Global Financial Centres, Real Estate and Risk
9.1 Introduction
9.2 Retracing the threads
9.3 Market integration, globalisation and systemic risk
9.4 Some preliminary evidence
9.5 Global financial centres and office market risk: some policy implications
Epilogue
Bibliography
Index
"The book, with its solid theoretical underpinnings and far-reaching analysis, has the potential to open the way to more empirical work on the impact of globalisation on real estate markets. As expressed by the author in the conclusion, it seems likely that Towers of Capital will form a framework, and set the standard, for globalisation studies in real estate for the years to come."  (Urban Studies, 16 April 2012)
Examines office markets within major financial cites worldwide
Analyses impact of office markets on economic stability
Synthesizes research on urban economics and financial services
International coverage and a strong policy component