Toxicogenomics: Principles and Applications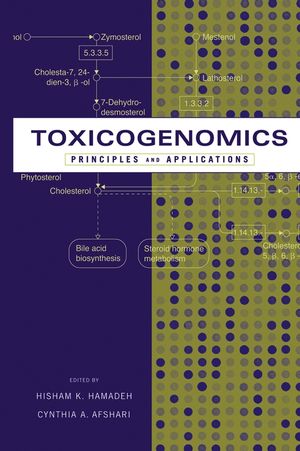 Toxicogenomics: Principles and Applications
ISBN: 978-0-471-43417-7
Sep 2004
361 pages
Description
Toxicogenomics: Principles and Applications fills the need for a single, thorough text on the key breakthrough technologies in genomics, proteomics, metabolomics, and bioinformatics, and their applications to toxicology research. The first section following a general introduction is on genomics and toxicogenomics, and qPCR. The next sections are toxicoproteomics and metabolomics. The final section covers bioinformatics aspects, from databases to data integration strategies.
A practical resource for specialists and non-specialists alike, this book includes numerous illustrations that support the textual explanations. It offers practical guidance to investigators wishing to pursue this line of research, and lists key relevant software and Internet resources.
Contributors.
Foreword.
Preface.
1. General Toxicology (Ronald C Shank).
2. A Short Introduction to the Expression Profile Toolbox, (Jeffrey F. Waring, et al.).
3. Microarray Manufacture (Emile F Nuwaysir).
4. Scanners (Charles J Tucker).
5. Databases for Toxicogenomics (Pierre R Bushel).
6. Statistics for Toxicogenomics (Thomas J Downey Jr).
7. Real-time and Quantitative PCR (Nigel J Walker and Jeanelle Martinez).
8. Toxicogenomics: Confounding Variables and Data Interpretation (Kevin Morgan, et al.).
9. Introduction ito relationships between toxicology and gene expression (Hisham Hamadeh and Robert Dunn).
10. The Use of a Compendium of Expression Profiles for Mechanism of Toxicity Prediction (Jeffrey F Waring, et al.).
11. Using Genetically-Altered Mice in Toxicogenomics Analysis of Chemical Exposure (J Christopher Corton, et al.).
12. Introduction to High-Throughput Prot ein Expression (Alex Merrick).
13. Analytical Proteomics Approaches To Analysis Of Protein Modifications : Tools For Studying Proteome-Environment Interactions (Daniel Liebler).
14. Introduction to Metabolomics and Metabolic Profiling (Robert London and David Houck).
15. Toxicogenomics Resources (Hisham Hamadeh and Rupesh Amin).
Index.
"The editors have assembled a useful guide for new and seasoned scientists exploring the relationships between genetic variation and toxic response." (
Journal of Natural Products
, January 2006)
"…a comprehensive, concise, and practical introduction to this new and exciting area of toxicogenomics." (ASM News, December 2005)
"…both skilled practitioners and newcomers to this subject will find something worthwhile and interesting within the covers of this volume." (The Quarterly Review of Biology, September 2005)
"...a timely and thorough compendium covering various subjects in toxicology, genetics, expression profiling, and bioinformatics...a valuable collection on new approaches…" (Clinical Chemistry, August 2005)
"The editors of this book are to be congratulated for their valuable arrangement of the expanding field of toxicogenomics, through its principles and application."  (Journal of Chemical Technology & Biotechnology, June 2005)
"Most suitable for genomic scientists learning about this new inter-disciplinary field of toxicogenomics." (E-STREAMS, March 2005)
"...an up-to-date guide into what is happening in this dynamic field...a useful roadmap to conduct new studies and to evaluate the increasing number of research papers." (Veterinary & Human Toxicology, December 2004)
"This timely book…is well referenced, with particular attention to web-based resources. The emphasis on methods rather than signatures reveals the still-early nature of this promising field." (Environmental Health Perspectives, November 2004)