Traceable Temperatures: An Introduction to Temperature Measurement and Calibration, 2nd Edition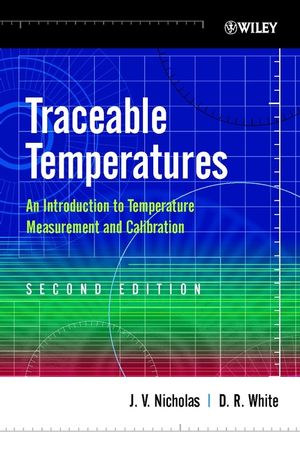 Traceable Temperatures: An Introduction to Temperature Measurement and Calibration, 2nd Edition
ISBN: 978-0-471-49291-7 December 2001 444 Pages
Description
The accurate measurement of temperature is a vital parameter in many fields. A critically important aspect of applying any temperature sensor is that of traceable calibration - a concept that has been developed to ensure that all measurements made are accurate and legally valid.
This timely new edition reflects the marked move towards ISO accreditation in measurement laboratories internationally, and the ever increasing emphasis on adequate uncertainty analysis for measurements in accredited laboratories to conform to national and international bodies, and the SI and Metric treaty.
* Fully revised and updated to incorporate the latest trends and developments in measurements and calibration
* Provides information concurrent with the latest ISO Quality Standards for assessing the uncertainty of measurement sensors
* Offers detailed converage of traceability, how to make traceable measurements and how to design, carry out and report calibration
* Unique emphasis on possible problems in the field, and provision of practical advice on how to recognise and treat errors.
An essential reference resource for practising and training engineers, scientists and technicians in accredited test and calibration laboratories involved in temperature measurement and calibration.
Preface to First Edition.

Preface to Second Edition.

General Reading for First Edition.

Acknowledgements for First Edition.

Acknowledgements for Figures and Tables.

1. Measurement and Traceability.

2. Uncertainty in Measurement.

3.The ITS-90 Temperature Scale.

4. Use of Thermometers.

5. Calibration.

6. Platinum Resistance Thermometry.

7. Liquid-in-Glass Thermometry.

8. Thermocouple Thermometry.

9. Radiation Thermometry.

Appendix A: Further Information for Least-Squares Fitting.

Appendix B: The Differences Between ITS-90 and IPTS-68.

Appendix C: Resistance Thermometer Reference Tables.

Appendix D: Thermocouple Reference Tables.

Index.