Tracing Your Family History Online For Dummies, 2nd Australian Edition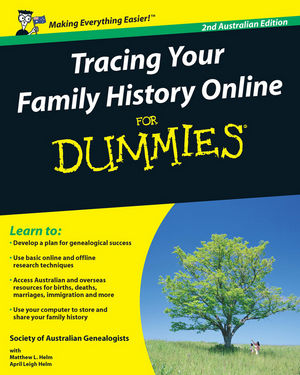 Tracing Your Family History Online For Dummies, 2nd Australian Edition
ISBN: 978-0-731-40909-9
Sep 2011
344 pages
Product not available for purchase
Description
Created especially for the Australian customer!
Use the internet to track down your ancestors
Millions of genealogical resources and records are available online, allowing you to become a successful family historian from the comfort of your home. This fully updated and practical guide shows you where to start, how to find and use the best websites and how to swap information with others -- helping you to become a smart, discriminating researcher.
Plan for genealogical success -- get organised to make your research more efficient
Begin your search -- start learning where your ancestors came from
Find elusive records -- access Australian and international records for births, deaths, marriages, arrivals and more
Organise your findings -- understand traditional methods of genealogical organisation and use software to organise and store information
Share your findings online -- create websites and form research groups
Bonus CD includes: Genealogical software tools including Legacy 7.0, Ezitree, Brother's Keeper and Reunion for Macintosh. Plus useful tools like Paint.NET, Open Office and AVG anti-virus software.
Introduction.
Part I: Getting Your Act Together.
Chapter 1: You Gotta Have Groundwork.
Chapter 2: Planning for Genealogical Success.
Chapter 3: What's in a Name?
Chapter 4: Locating Your Ancestors (Geographically Speaking).
Part II: Finding the Elusive Records.
Chapter 5: Australian Government Records.
Chapter 6: Records Off the Beaten Track.
Chapter 7: Zeroing In on Your Origins.
Part III: Keeping Your Ancestors in Line: Organising and Presenting Your Findings.
Chapter 8: Finetuning Your Organisational and Preservation Skills.
Chapter 9: Using Your Computer to Store and Organise Information.
Part IV: Share and Share Alike.
Chapter 10: Coordinating Your Attack: Getting Help from Other Researchers.
Chapter 11: Sharing Your Wealth Online.
Chapter 12: From Your Computer to the World.
Part V: The Part of Tens.
Chapter 13: Ten Handy Databases.
Chapter 14: Ten Websites for Genealogy Beginners.
Chapter 15: Ten Tips for Genealogical Smooth Sailing.
Chapter 16: Ten Things to Remember When You Design Your Genealogical Website.
Appendix A: What Does This Mean?
(A Glossary of Terms).
Appendix B: About the CD.
Appendix C: Internet Directory.
Index.