Tracking Mental Health Outcomes: A Therapist's Guide to Measuring Client Progress, Analyzing Data, and Improving Your Practice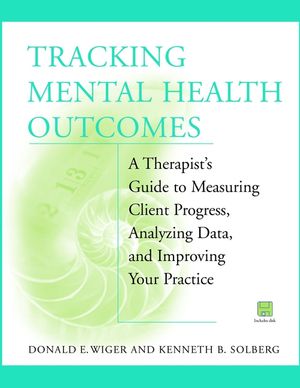 Tracking Mental Health Outcomes: A Therapist's Guide to Measuring Client Progress, Analyzing Data, and Improving Your Practice
ISBN: 978-0-471-38875-3
Mar 2001
308 pages
Product not available for purchase
Description
A complete, step-by-step guide to tracking and documenting treatment outcomes

Outcomes assessment has become an increasingly critical component of contemporary mental health practice, yet most therapists receive little or no training in accepted outcomes assessment and documentation methods. Tracking Mental Health Outcomes fills this gap, providing step-by-step guidance on choosing the best outcomes-tracking methods and instruments for your practice. You'll see how to integrate them into everyday clinical procedures and use the data they supply to improve the quality of care you provide as well as fully comply with insurance company and regulatory agency requirements.

An indispensable working resource for mental health professionals, Tracking Mental Health Outcomes:
* Describes both intraclient and normative approaches to outcomes assessment and how to integrate them into your practice
* Uses DSM-IVTM as the standard reference point for assessing outcomes
* Provides clear-cut examples of third-party payer requirements
* Describes commercially available assessment instruments and how to use them
* Features case examples illustrating how to perform and document outcomes assessment-from initial intake to termination
* Supplies blank forms for recording and tracking outcomes data on the enclosed computer disk
Quick Reference Guide to Sample Forms.

Preface.

DEFINING MENTAL HEALTH OUTCOMES.

Introduction and Historical Overview of Outcome Research and Assessment.

The Need for Outcome Assessment.

Individual and Normative Approaches to Outcome Assessment.

INDIVIDUALIZED OUTCOME ASSESSMENT.

Measuring and Quantifying Ongoing Behaviors.

Assessing Outcome Through the DSM-IV Interview and Intake Information.

Assessing Outcome Using the Treatment Plan.

Assessing Outcome Using Progress Notes and Ongoing Charting.

NORMATIVE OUTCOME ASSESSMENT.

Defining Clinically Significant Change.

Normative Data and Examples for Four Common Outcome Measures.

Selecting Standardized Outcome Measures.

Collecting and Analyzing Normative Outcome Data.

INTEGRATION.

Integrating Individual and Normative Outcome Measures.

References.

Appendix.

Blank Forms.

About the Authors.

About the Disk.