Trade Stocks and Commodities with the Insiders: Secrets of the COT Report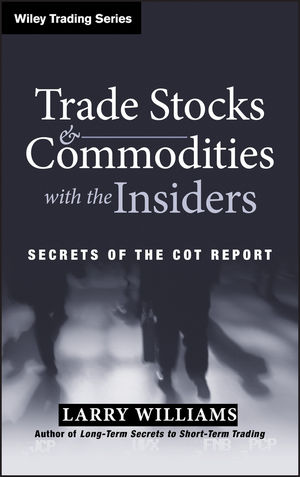 Trade Stocks and Commodities with the Insiders: Secrets of the COT Report
ISBN: 978-0-471-74125-1 September 2005 224 Pages
Description
""The way that Big Money got to be Big Money was by also being the 'Smart Money', and so it is worth paying attention to how the Big Money traders behave. That's the essence of what Larry Williams has to teach us in this book. And it's not just what the Smart Money says or thinks, but how they behave in terms of their trading that we should pay attention to. Larry shows us how to listen to that message.""
—Tom McClellan, Editor of The McClellan Market Report

""Finally, an insider's take on what really goes on behind the scenes in commodity trading. Larry writes his view of trading, as only he knows it, from his twenty-five years of experience.""
—James Altucher, author of Trade Like a Hedge Fund

Successful trader Larry Williams reveals industry secrets that help investors and traders successfully invest and trade side-by-side with the largest commercial interests in the world. You'll be introduced to the COT (Commitment of Traders) report, the best resource for achieving trading success, learn exactly what the information it contains means, and plan for maximizing profits by acting on reported actions.
Introduction.
Chapter 1. Meet Your New Investment Partner and Adviser.
Chapter 2. Watching the Commercials.
Chapter 3. Understanding the Commercials: A Record of Their Buying and Selling.
Chapter 4. The COT Index.
Chapter 5. For Every Insider There Is an Outsider.
Chapter 6. Large Traders . . . Not Quite As Good As You Think.
Chapter 7. The Facts on Volume.
Chapter 8. The Breakthrough: Getting Inside Volume and Open Interest.
Chapter 9. Opening Up on Open Interest.
Chapter 10. A Unified Theory of COT Data.
Chapter 11. A New Twist on the Commercials: Using Them for Stocks.
Chapter 12. Pointers and Thoughts on Trading.
Chapter 13. The One-Minute Commodity Trader.
Chapter 14. Charts: What They Are, What They Mean.
Chapter 15. Putting Theory to Work: Practicing What I Preach.
Index.
"This is an excellent and much needed book" (
The Technical Analyst
, Sept/Oct 2005)
""If you trade futures, this book will be a valuable addition to your trading library. Not only is the book a valuable education, but also an enjoyable read."" - Futures magazine, November 2005