Trade With Passion and Purpose: Spiritual, Psychological, and Philosophical Keys to Becoming a Top Trader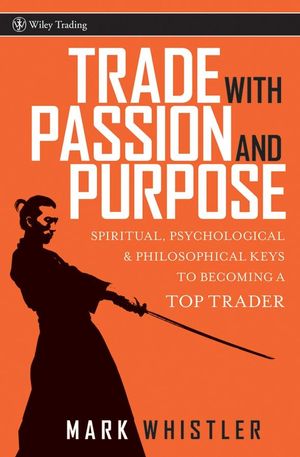 Trade With Passion and Purpose: Spiritual, Psychological, and Philosophical Keys to Becoming a Top Trader
ISBN: 978-0-470-03908-3 March 2007 272 Pages
Description
Successful trader Mark Whistler draws from the fields of psychology, spirituality, and philosophy to emphasize how self-honesty, self-esteem, emotional balance, and confidence form the foundation of successful trading. He demonstrates how adherence to a small number of core principles vastly improves chances of success, and shares interviews from top traders to exemplify his point that even the most successful traders have had to overcome setbacks.
Cannot be combined with any other offers.
Original Price:$139.95
Purchased together:$104.96
save $34.99
Cannot be combined with any other offers.
Original Price:$119.95
Purchased together:$89.96
save $29.99
Table of contents
Acknowledgments.
Introduction.
Believing in Ourselves.
PART I All of the Answers Are Already Within.
CHAPTER 1 Finding Your Purpose-Center.
The Groundwork.
Clarifying Your Purpose-Center through the Mission Statement.
Morita Therapy and Dogma.
Purpose-Center as Self-Awareness in Style.
The Dogma of Style.
Summary.
CHAPTER 2 The Time Is Now.
In the Moment.
Through Ryan Dempster's Eyes.
Summary.
CHAPTER 3 Self-Honesty and Self-Esteem.
The Foundation of Self.
Honesty.
Ego Versus Esteem.
Esteem.

Pride.
Summary.
CHAPTER 4 The Balance of Humbleness.
The Importance of Humbleness.
Mike Palumbo—Words of Wisdom from a Supertrader.
Balance of Self: An Interview with Kevin Cuddie.
Summary.
CHAPTER 5 Be Courageous, Be Forgiving.
The Vacuum Law of Prosperity.
Interview with Dr. Michael A. L. Eckelkamp.
The Need for Courage: Vic Frierson.
Summary.
Addendum.
CHAPTER 6 An Investigation of Fear.
Fear Defined.
Acknowledging the Predator.
Good Cop.
Bad Cop.
Deciphering the Difference between Good and Bad Fear.
Event Timing and the Conditioned Reflex.
Overcoming Good Fear.
Defeating Bad Fear.
Fear and Morita Therapy.
Fear Is the Only Paradigm of the Market.
Personal Unconsciousness.
Summary.
CHAPTER 7 Overcoming Adversity and Anxiety.
Turning the Tide on Death—Bob Williams.
The Basics of Anxiety.
The Bulkhead of Anxiety.

Summary.
CHAPTER 8 Cause and Effect.
The Foundation of Cause and Effect.
Cause and Effect in Trading Decisions.
Altering the Cause Variables.
Interview with Joe Ritchie.
Adding on to Joe's Words.
Experience as the Most Important Cause Variable.
Summary.
CHAPTER 9 Emotional Intelligence: The Intuition Wild Card.
The Roots.
Emotional Intelligence with Emotional Identification and Acceptance.
Application to Trading.
Emotion Versus Intuition.
Summary.
CHAPTER 10 Developing Intuition.
Levels of Intuition.
Planning for Intuition.
Developing Intuition.
Incredible Intuition through the Eyes of a Publisher.
Top-Down Processing.
Intuition in Trading.
Summary.
CHAPTER 11 Expressing Gratitude.
Gratitude as a Psychological Study.
Gratitude and Trading.
Summary.
PART II Beyond Emotions.
CHAPTER 12 Confronting and Defeating Stress.
A Little Stress Is Good.
Recognizing Stress.
Matt McCall on Stress and Investing.
Summary.
CHAPTER 13 A Medical Evaluation of Stress.
The Facts behind Stress, from Dr. Royce Peterman, MD.
Summary.
CHAPTER 14 The Necessity of Relaxation.
Sivananda Principles.
Breathing to Deal with Three Stressful Moments.
Summary.
CHAPTER 15 Affirmation and Visualization.
Affirming Ourselves.
Visualizing Success.
Summary.
CHAPTER 16 Avoiding Self-Destructive Behavior.
Understanding Why We Blow Up Leads to Recognition.
Thwarting Self-Destruction and Cleaning Up the Mess.
Summary.
PART III Developing Your Game Plan.
CHAPTER 17 Creating a Trading Plan.
The Plan.
Trading Plan Integrity through Philosphy.
Summary.
CHAPTER 18 Understanding Risk.

Managing the Big Picture.
In Closing.
Summary.
CHAPTER 19 Change Is Constant.
Change Is the Only Constant We Can Count On.
When Life Blows Up, Make a Change.
The Law of Flotation Wasn't Based on the Contemplation of Sinking Things
Summary.
Last Words.
About the Interviewees.
Notes.
Bibliography.
About the Author.
Index.