Trade Your Way to Wealth: Earn Big Profits with No-Risk, Low-Risk, and Measured-Risk Strategies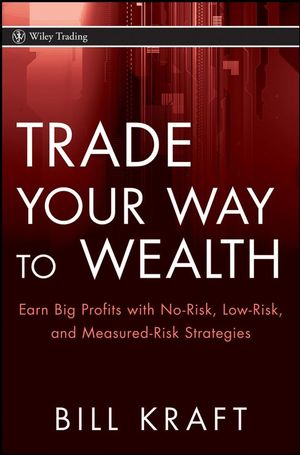 Trade Your Way to Wealth: Earn Big Profits with No-Risk, Low-Risk, and Measured-Risk Strategies
ISBN: 978-1-119-19786-7
Sep 2015
224 pages
Description
Successful trader and advisor Bill Kraft shows how to trade the financial markets in a way that limits risk and provides the potential for big profits. Kraft, who left a successful law practice to become an independent trader, explains his own educational process and how he arrived at a trading approach that primarily uses options to generate consistent income, limit risk, and participate in big market moves. In simple and down-to-earth language, Kraft explains a variety of strategies including buying and selling options; covered call writing; collars; using closed end mutual funds for income; debit spreads, volatility-based straddles; ratio backspreads; condors; and calendar spreads. Kraft emphasizes that traders need to first develop a sound and reasonable business plan ? in the same manner that any entrepreneur would plan a new business. Armed with the strategies explained in the book and a solid business plan, traders will have a blueprint for generating consistent profits in a relatively stress-free and efficient manner.
Preface.
Acknowledgments.
About the Author.
Chapter 1. Millions Can Be Made with Safer Trades.
Chapter 2. Is the ""Invest and Hold"" Strategy Best for You?
Chapter 3. Successful Trading Can Be Simple.
Chapter 4. How Put Options Can Protect Your Money, and Make You Money Too.
Chapter 5. How Call Options Can Really Make You Rich.
Chapter 6. Combining Strategies for No Risk and Low Risk Trades.
Chapter 7. Money Every Month. Earning Income.
Chapter 8. Getting an Edge with Exchange Traded Funds.
Chapter 9. What You Need to Get Started.
Chapter 10. Comparison of Strategies.
Appendix A. Elements of a Basic Business Plan for Investors and Traders.
Appendix B. Closed End Income Producing Fund Examples.
Appendix C. Selected ETFs and REITs.
Appendix D. Strategy Comparison.
Appendix E. Recommended Reading.
Index.