Trade-offs in Conservation: Deciding What to Save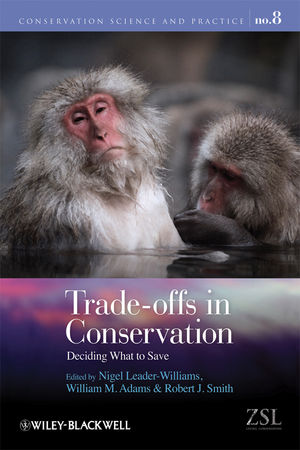 Trade-offs in Conservation: Deciding What to Save
ISBN: 978-1-405-19384-9
Sep 2010, Wiley-Blackwell
432 pages
Description
This book demonstrates that trade-offs can be very important for conservationists. Its various chapters show how and why trade-offs are made, and why conservationists need to think very hard about what, if anything, to do about them. The book argues that conservationists must carefully weigh up, and be explicit about, the trade-offs that they make every day in deciding what to save.

Key Features:
Discusses the wider non-biological issues that surround making decisions about which species and biogeographic areas to prioritise for conservation
Focuses on questions such as: What are these wider issues that are influencing the decisions we make? What factors need to be included in our assessment of trade-offs? What package of information and issues do managers need to consider in making a rational decision? Who should make such decisions?
Part of the Conservation Science and Practice book series
This volume is of interest to policy-makers, researchers, practitioners and postgraduate students who are concerned about making decisions that include recognition of trade-offs in conservation planning.
Contributors.
Preface and Acknowledgments.
Introduction.
1. Deciding What to Save: Trade-offs in Conservation (Nigel Leader-Williams, William M. Adams and Robert J. Smith).
Current Approaches and Toolkits.
2. Prioritizing Trade-offs in Conservation (Kerrie A. Wilson, Michael Bode, Hedley Grantham and Hugh P. Possingham).
3. Trade-offs in Identifying Global Conservation Priority Areas (William Murdoch, Michael Bode, Jon Hoekstra, Peter Kareiva, Steve Polasky, Hugh P. Possingham and Kerrie A. Wilson).
4. Trade-offs in Making Ecosystem Services and Human Well-being Conservation Priorities (Rebecca L. Goldman, Gretchen C. Daily and Peter Kareiva).
5. Defining and Measuring Success in Conservation (Valerie Kapos, Andrea Manica, Rosalind Aveling, Philip Bubb, Peter Carey, Abigail Entwistle, John Hopkins, Teresa Mulliken, Roger Safford, Alison Stattersfield, Matthew J. Walpole and Andrew Balmford).
Influence of Value Systems.
6. Conserving Invertebrates: How Many can be Saved, and How? (Michael J. Samways).
7. Trade-offs between Animal Welfare and Conservation in Law and Policy (Stuart R. Harrop).
8. Protection or Use: a Case of Nuanced Trade-offs? (Alison M. Rosser and Nigel Leader-Williams).
9. Whose Value Counts? Trade-offs between Biodiversity Conservation and Poverty Reduction (Dilys Roe and Matthew J. Walpole).
10. The Power of Traditions in Conservation (Katherine M. Homewood).
Economics and Governance.
11. Misaligned Incentives and Trade-offs in Allocating Conservation Funding (Aaron Bruner, Eduard T. Niesten and Richard E. Rice).
12. Marketing and Conservation: How to Lose Friends and Influence People (Robert J. Smith, Diogo Veríssimo and Douglas C. MacMillan).
13. Trade-offs between Conservation and Extractive Industries (Manuel Pulgar-Vidal, Bruno Monteferri and Juan Luis Dammert).
14. A Fighting Chance: can Conservation Create a Platform for Peace within Cycles of Human Conflict? (Rosalind Aveling, Helen Anthem and Annette Lanjouw).
Social and Institutional Constraints.
15. Trading-off 'Knowing' Versus 'Doing' for Effective Conservation Planning (Andrew T. Knight and Richard M. Cowling).
16. Path Dependence in Conservation (William M. Adams).
17. Conservation Trade-offs and the Politics of Knowledge (J. Peter Brosius).
Future Challenges.
18. Climatic Change and Conservation (Stephen G. Willis, David G. Hole and Brain Huntley).
19. Drivers of Biodiversity Change (Georgina M. Mace).
20. Another Entangled Bank: Making Conservation Trade-offs More Explicit (Robert J. Smith, William M. Adams and Nigel Leader-Williams).
Index.
""It will, however, find a ready market amongst top undergraduate and postgraduate students as it is a compendium of good summary facts, definitions and diagrams with some superlative introductory expositions. For the same reasons I suspect most lecturers in conservation biology will want a book on their shelves."" (Biological Conservation Reviewers, 2011)