Trade to Win: Proven Strategies to Make Money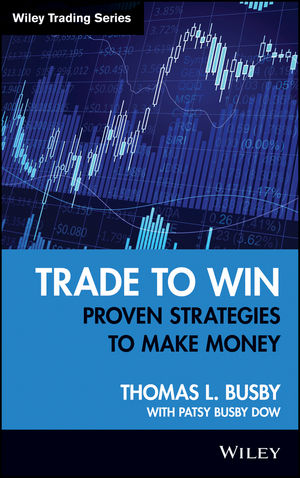 Trade to Win: Proven Strategies to Make Money
ISBN: 978-1-119-20362-9
Sep 2015
192 pages
Description
Divided into three comprehensive parts, Trade to Win explains the fundamental elements of author Thomas Busby's proven trading approach–which deals with the significance and use of time, key numbers, and market indicators. Along the way, you'll find strategies for trading stocks, options, futures, and other financial products, and go beyond the numbers to learn about a few of the often overlooked aspects of trading–including risk management, money management, and the impact of emotions on your trading.
Foreword.
Preface.
Acknowledgments.
PART ONE A Foundation for Success.
CHAPTER 1 The Trader's Edge.
The Road to Vegas.
Becoming a Trader.
The Aftermath of Black Monday.
Revolutions in Technology and Communication.
The Dark Ages: Circa 1986.
New Games, New Toys.
Bet on Yourself.
The Challenge for Traders.
Review.
CHAPTER 2 Time Is Money.
Time and Its Importance.
Maggie and Me.
Trading Patterns Are Timely.
Time to Stay Out.
Special Times to Watch.
Know When to Cash Out.
Review.
CHAPTER 3 Opening the Vault with Key Numbers.
Stocks and Key Numbers.
Key Numbers in Metals, Fuels, and Commodities.
Gold Numbers.
Key Numbers in the Equity Index Futures.
Connecting the Dots.
"T" Square.
Review.
CHAPTER 4 Commonsense Market Indicators.
Tracking the Seven Sisters.
The NYSE and Nasdaq Issues.
The NYSE Tick.
The TRIN.
The V-Factor and the TTICK.
Review.
CHAPTER 5 The Art of Trading.
Time.
Key Numbers.
Market Indicators.
The Fourth Element.
Review.
PART TWO Strategies to Win.
CHAPTER 6 The Path of Least Resistance.
The Face Peel.
Off to the Races.
The Fast Dance.
The Squeaky Wheel.
Review.
CHAPTER 7 News Pays.
Never Predict the Market.
Strategies for Early News.
A 9:00 News Strategy.
Earnings Season and How to Use It.
Caution.
Breaking News.
Review.
CHAPTER 8 Making Money with Bernanke.
The Corvette Trade.
The Model "T".
Review.
CHAPTER 9 Dancing with the Dax.
The Early Riser.
The Basketball Trade.
Review.
CHAPTER 10 Money Never Sleeps.
The Follow-Through.
Trading When the Sun Rises.
Trading After-Hours News.
Holiday Trading.
After Hours—A New Frontier.
Characteristics of Night Markets.
Review.
CHAPTER 11 Cashing in on Bonds.
Review.
CHAPTER 12 Options Strategies to Make Money.
Options Logic and Risk.
Options Strategies.
Probing.
Review.
CHAPTER 13 Reaping Profits on the Farm.
The Morning Face Peel.
Review.
CHAPTER 14 Going for the Gold.
Review.
CHAPTER 15 Stocks and ETFs.
The Wave of the Future—ETFs.
Review.
PART THREE The Wild Cards.
CHAPTER 16 Beyond the Numbers.
Winners Trade the Numbers.
Be Disciplined.
Kiss Your Ego Goodbye.
Be Persistent.
Patience Pays.
Believe in Yourself.
Review.
CHAPTER 17 Risk Management.
Three Strikes and You Are Out.
Limit Risk.
Use the Two-Minute Rule.
Use Stop/Loss Orders.
Have an Exit Strategy.
Manage Every Trade.
Phasing Into and Out of Positions.
Diversify.
Review.
CHAPTER 18 Psychology and Discipline: The Winner's Edge.
The Psychology of Winning.
Gaining Balance.
Review.
CHAPTER 19 The Last Word.
Resources.
About the Authors.
Index.