TradeStation Made Easy!: Using EasyLanguage to Build Profits with the World's Most Popular Trading Software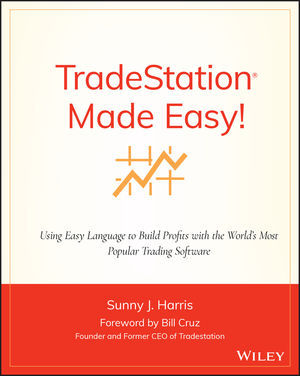 TradeStation Made Easy!: Using EasyLanguage to Build Profits with the World's Most Popular Trading Software
ISBN: 978-1-118-06315-6 March 2011 768 Pages
Description
Customize your trading plan for greater profits using the most popular charting software
The majority of professional and individual traders use some kind of trading software on which to base their strategies. With over 100,000 users, the most popular trading software today is TradeStation, published by TradeStation Technologies. While this software is favored by many, TradeStation's computer language can be confusing, especially for the novice.
TradeStation Made Easy! is the first and only book to explain exactly how to use the unique computer language behind this bestselling software program. It is not meant as a replacement for the TradeStation manuals, instead it will cover the essence of programming in EasyLanguage and focus on a consistent set of data and an elementary system throughout.
An easily understood guide to TradeStation that also provides tips for the user in designing a personalized trading system
Endorsed by the software provider TradeStation Technologies
Written in a straightforward manner, that is accessible even for those with little computer experience
TradeStation Made Easy! fills a much-needed gap in this area and puts the basics of EasyLanguage in perspective. With it, you'll be able to write simple and intermediate programs that will accurately express your theories and ideas about whatever market interests you.
Foreword.
Preface.
Acknowledgments.
Author's Note.
Chapter 1 Introduction To Easylanguage.
Chapter 2 Quick Start.
Chapter 3 Understanding The Process.
Chapter 4 Basic Use Of TradeStation.
Chapter 5 Basic Math.
Chapter 6 Basic EasyLanguage.
Chapter 7 Programming Conventions.
Chapter 8 Statements.
Chapter 9 Ifs, Ands, And Buts.
Chapter 10 Begin And End (Block Statements).
Chapter 11 Loops.
Chapter 12 Analysis Techniques.
Chapter 13 Buying And Selling.
Chapter 14 Functions.
Chapter 15 Tricky Math.
Chapter 16 TradeStation Tricks.
Chapter 17 Optimization.
Chapter 18 System Performance.
Chapter 19 Conclusion.
Appendix A Styles.
Appendix B Reserved Words.
Appendix C Formulas.
Appendix D Full Code For The System And Studies In This Book.
Appendix E Baskets.
Appendix F Where's The Command?
Appendix G.1 Built-In Functions And Indicators (Alphabetical Listing).
Appendix G.2 Built-In Functions And Indicators (Functional Listing).
Appendix H Tradestation Add-On Products And Services.
Appendix I Tradestation User Groups.
Appendix J Error Messages.
Appendix K What's Wrong With This Code?
Bibliography.
Index.