Trading CDF's Options and Warrants the ASX Way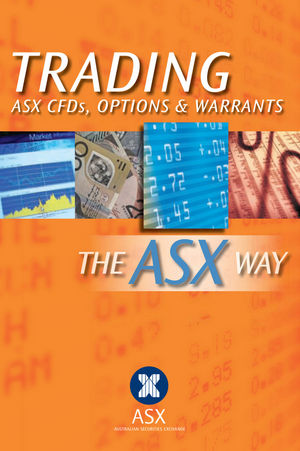 Trading CDF's Options and Warrants the ASX Way
ISBN: 978-0-731-40738-5
Sep 2011
320 pages
Description
This is the second book in the new, updated, revised ASX Way series, authored by experts at the Australian Securities Exchange. Trading CFDs,Options and Warrants – the ASX Way, contains information on the new exchange traded Contracts For Difference (CFDs) launched on the ASX in November last year. Information on how this new derivative works, how it differs from previous CFD trading through other CFD providers and how CFDs can be used to create wealth from the stock market is all covered in this informative new book.

CFDs have been available to Australian traders for over 5 years now. The new ASX CFDs are fundamentally different to the current Over-the-Counter (OTC) CFDs because they are the only CFDs traded on the Australian Securities Exchange. They offer price transparency, exchange independence and greater investor protection.

You can now trade the following ASX CFDs:
The top 50 stocks listed on ASX
Key global equity indices
A range of major foreign currency exchange rates
Selected commodities.
As well as presenting information on exchange-traded CFDs, the book covers in depth other derivative products - options and warrants. It is a one-stop shop for anyone seeking information on all derivative trading products available to trade on the ASX.
Trading derivatives such as CFDs, options and warrants is perceived as more risky than buying and holding shares. So investors should be fully informed. The expert author team sets out to educate readers on all aspects of trading. It has been written in the trade-mark easy-to-understand language, with clear explanations and definitions.