Trading Chaos: Maximize Profits with Proven Technical Techniques, 2nd Edition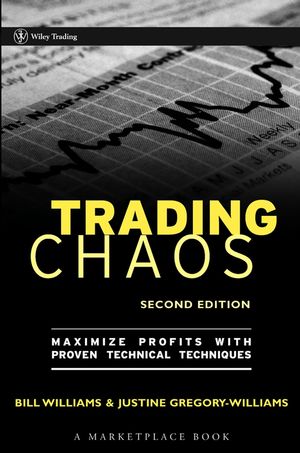 Trading Chaos: Maximize Profits with Proven Technical Techniques, 2nd Edition
ISBN: 978-0-471-46308-5 February 2004 256 Pages
Description
How to trade the markets by integrating Chaos Theory with market sentiment
In the first edition of Trading Chaos, seasoned trader and psychologist Bill Williams detailed the potential of Chaos Theory-which seeks to make the unpredictable understandable-in trading and it revolutionized financial decision-making. The Second Edition of Trading Chaos is a cutting edge book that combines trading psychology and Chaos Theory and its particular effect on the markets. By examining both of these facets in relation to the current market, readers will have the best of all possible worlds when trading.
Bill Williams, PhD, CTA (Solana Beach, CA), is President of Profitunity.com, a leader in the field of education for traders and investors. Justine Gregory-Williams (Solana Beach, CA) is President of the Profitunity Trading Group and a full-time trader.
Preface.
Acknowledgements.
Introduction.
CHAPTER 1: The Market Is What You Think It Is.
CHAPTER 2: Chaos Theory.
CHAPTER 3: Defining Your Underlying Structure—and How That Affects Winning and Losing.
CHAPTER 4: Gearing Up for Trading.
CHAPTER 5: What Type of Trader Are You?
CHAPTER 6: Super-Natural Trade/Vesting.
CHAPTER 7: Navigating the Markets.
CHAPTER 8: The Mighty Alligator.
CHAPTER 9: The First Wise Man.
CHAPTER 10: The Second Wise Man.
CHAPTER 11: The Third Wise Man.
CHAPTER 12: What Happens When the Wise Men Get Together?
CHAPTER 13: How to Get Out of a Hole Once You Are In.
EPILOGUE.
APPENDIX 1: Checklists for Trade/Vesting in the Markets.
APPENDIX 2: Frequently Asked Questions.
APPENDIX 3: How to Control Your Mind While Trading.
APPENDIX 4: Setting Up Investor's Dream for Profitunity Signals.
APPENDIX 5: Setting Up CQG.
APPENDIX 6: Setting Up MetaStock Professional 8.0.
APPENDIX 7: Setting Up TradeStation 2000i.
Bibliography.
Index.