Trading Forex: Uncover the Most Profitable Trading Strategies in the Foreign Exchange Market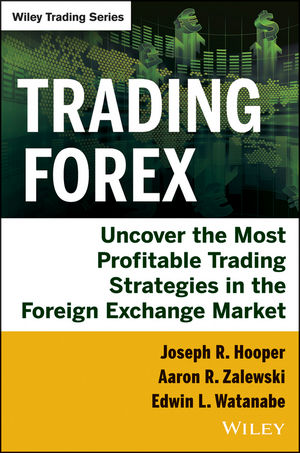 Trading Forex: Uncover the Most Profitable Trading Strategies in the Foreign Exchange Market
ISBN: 978-1-118-52567-8
Dec 2014
172 pages
Product not available for purchase
Description
Advanced Forex trading techniques to boost any trader's portfolio
Forex was once the domain of large financial institutions. Now, with the click of a mouse, an average investor-trader can buy and sell currencies easily. With few barriers to entry, a wealth of data easily available online, and flexible trading hours, Forex is an increasingly attractive alternative for a growing market of retail and individual traders. This book, from three leading experts in the field, explains the rules and techniques necessary to make safe and consistent profits in the fast paced world of foreign currencies.
A step-by-step guide for the ordinary investor to trading in the fast-paced world of foreign currencies
Prepares traders for the fast-paced emotions and volatility of Forex trading
Familiarizes the reader with Forex facts, history, figures, and various methods and systems for trading currencies
The Forex market is the largest and most liquid financial market in the world, with an average traded value of around $3.98 trillion dollars per day. Trading Forex demystifies the world of Forex and helps the individual investor compete on an equal footing with the big guys.
Preface
Acknowledgments
Chapter 1: Introduction to Forex
Millionaires in Forex
Raising the Bar Again With Forex
Chapter 2: How Forex Works
Spot Market, Forwards Market, Futures Market
What Affects The Currency Markets?
Understanding the Global Trading Sessions
Forex Trading Hours and Forex Trading Times
Currency Fixing and Squaring Up.
Chapter 3: The Mechanics of Forex Trading
The All Mighty Dollar
Fundamental Factors That Affect Currency Price
Important Forex Fundamental Factors
Chapter 4:  Currency Trading Basics
Who Are The Central Banks?
Inflation is the Key
Fundamental Information and Trading Considerations
The World Currencies
Tradable Currency Pairs
Major Currency Pairs
Other Tradable Currencies Called Cross Pairs
Chapter 5: How Do You Trade Forex?
Bias of The Cycle
What Is a Forex Trade And How Do You Participate?
So How Do We Trade?
Chapter 6: Leverage, Lots and Pip
You Gotta Love Leverage
You Will Love the Pip
Understanding Forex Leverage and Margin
What Is A Rollover?
Chapter 7: Forex Brokers
Which Broker?
News and Analysis
Trading Platform Basics
Placing The Order.
Easy Placing Stop Orders
So Who Is the Recommended Broker?
Forex.com Trading Rules and Regulations
Table 7.1 Minimum Margin Requirement by Currency Pair  as of 3-3-12
Chapter 8: Advanced Charting
Advanced Charting Streaming Data Intraday Charting!
Advanced Charting and The Lead Dog
Intraday Streaming Data Charts
Lower Indicator F1
Putting It all Together With Chart Interpretation
Money Management and Stops
Chapter 9:  So What's Next?
Conclusion
Advanced Charting Forex Glossary
About the Authors
Index