Trading Options to Win: Profitable Strategies and Tactics for Any Trader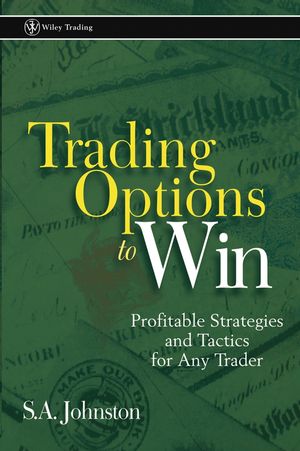 Trading Options to Win: Profitable Strategies and Tactics for Any Trader
ISBN: 978-0-471-44661-3
Jul 2003
306 pages
Product not available for purchase
Description
A fresh investment approach to an ever-changing market
In this unique and engaging treatise on the art and science of speculation, expert S. A. Johnston combines the profitable elements of banking, bookmaking, and gambling-three other ways of making money with money-with trading, to provide readers with a fresh new approach to trading the market. Written by a trader for a trader, Trading Options to Win gives readers a framework for using logical analysis to uncover profitable opportunities that they would otherwise miss. Johnston develops a speculative method that traders can use to consistently find and manage profitable trades. He then backs his talk up by detailing three months worth of trades using his successful method. For investors looking to move beyond the realms of technical and fundamental analysis, Trading Options will be the guide of choice.
S. A. Johnston is a systems analyst and designer by profession. His company, Software Systems, specializes in inventory optimization and control systems for business. Under the tutelage of Fredric B. Fitch and Richmond Thomason, he became the first graduate of Yale to receive a BA in logic.
Preface.
Chapter 1. Making Money with Money.
Chapter 2. On the Trail of a Method: Risk, Leverage, and Markets.
Chapter 3. Profitability 101: Expectation and Options.
Chapter 4. Just the Facts, Ma'am: Avoiding Moonshine, Morons, and Myths.
Chapter 5. No Hammer, No House: The Tools of the Trader.
Chapter 6. Thomas More's Revenge: A Strategy for All Seasons.
Chapter 7. Apocalypse Never: The Uses of Defense.
Chapter 8. Don't Just Stand There, Do Something: The Straddle.
Chapter 9. Don't Just Do Something, Stand There: The Strangle.
Chapter 10. Hi-Yo, Yogi!: Riding the Bear.
Chapter 11. The King of Strategies: The Martian Ratio-Spread.
Chapter 12. Every Once in a While: The Picador.
Chapter 13. Pay Me after Lunch: The Endplay.
Chapter 14. Filling in the Cracks: Ideas, Understanding, and Winning.
Appendix A: Studies of Historical Gross Movement in Selected Markets, 1990-2002.
Appendix B. Distribution of Contract Highs and Lows in Selected Markets 1980-2002.
Index.