Trading Regime Analysis: The Probability of Volatility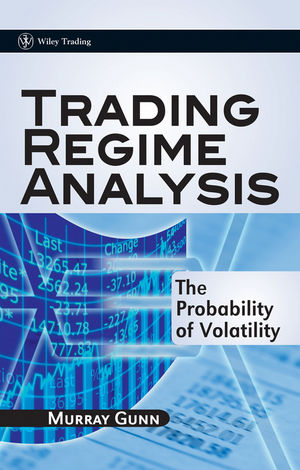 Trading Regime Analysis: The Probability of Volatility
ISBN: 978-0-470-98785-8
Mar 2009
440 pages
Product not available for purchase
Description
Trading Regime Analysis is a groundbreaking work on how markets behave and how to profit from this behaviour. The book describes that it is the human nature of markets which explains why this behaviour exists and whether one believes in fundamental or technical market analysis, the ebb and flow of volatility is the one undeniable truth that exists in financial and commodity markets. It is the up and down cycles of volatility that is the manifestation of human psychology as the ultimate driver of markets and volatility, like human behaviour, has a distinct cycle to it.

Offers in detail the methods that can be used to identify whether a market is about to start trending or about to enter a period of range trading
Highlights important applications for this analysis for institutional investors, asset allocators, hedge fund managers and retail investors
Provides unique content as there are no existing titles on trading regime analysis
Foreword
Acknowledgements
PART I: SUPPLY AND DEMAND
1 There is NO Holy Grail
2 The "Nature" of Markets
3 Volatility Defined
PART II: EXISTING TRADING REGIME ANALYSIS
4 Orthodox Pattern Recognition
5 Japanese Candlesticks
6 Volume Considerations
7 Previous Highs and Lows
8 Elliott Wave Principle
9 Moving Average Envelopes
10 Bollinger Band Width
11 The ADX
12 Point and Figure Charts
13 Rate of Change and Divergence
14 Williams %R
15 Donchian Channels
16 A Nod to the Quants
PART III: FURTHER IDEAS FOR TRADING REGIME ANALYSIS
17 Implied Volatility Curves
18 The Volatility Smile
19 My MATE
20 Trend-Following Performance Indicator
21 Trading Regime Indicator
PART IV: COMBINING AND USING TRADING REGIME ANALYSIS
22 An Eclectic Approach
23 Applications for Traders and Investors
24 Trading Regime Analysis for Economists and Fundamentalists
25 Case Studies
26 There is Still No Holy Grail
Appendix 1: Time Fractals and the Supply/Demand Index
Appendix 2: Why Do Trend Lines Work?
Appendix 3: Examples of Trend Lines
References
Index